NICKMERCS' MFAM Gauntlet June – Preview
MFAM Gauntlet
As we go into the MFAM Gauntlet June Main Event, we take a look at the format, competitors and my prediction.
Last month it was Team MFAM SuperEvan who won back to back tournaments taking home the $24,000 for the second month in a row. The team of SuperEvan, Ampz, Frozone and Etrain were too hot to handle, taking down the likes of Symfuhny, Vikkstar, Huskers and Nickmercs himself.
Format
After three weeks of community qualifiers, the NICKMERCS MFAM Gauntlet June Main Event is set to happen. The winners of these community qualifiers win a cash prize and the chance to play in the Main Event. During the Main Event, teams of 4 have 3 hours to score as many points as possible from their best 5 games.
Following this, the 8 highest scoring teams will go into a single-elimination bracket where they will battle against another squad over 2 games in a Warzone Wednesday style format. To ensure that teams are balanced, the max overall K/D is 16.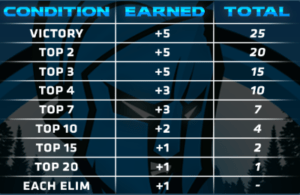 Competitors (Subject to change)
Team NICKMERCS
Nickmercs

Swagg

SuperEvan

Uleet
Team AverageJoewo
AverageJoewo

Attach

Exzachtt

Gangstazsalute
Team Aydan
Aydan

Rated

UnRational

Deleo
Team CourageJD
CourageJD

NoahJ456

xAmpz

Rallied
Team Crimsix
Crimsix

FeLo

Bobbypoffgaming

Clayster
Team DougisRaw
DoudisRaw

CCanada

Timthetatman

TeePee
Team FaZe Bloo
FaZe Bloo

Clutchbelk

Med1cine

Royalize
Team FaZe Testy
FaZe Testy

Avemaster

Wineiety

FaZe Dirty
Team Gotaga
Gotaga

Rudy Gobert

Vincent Poirer

Mickalow
Team Jeremy
Jeremy

Zach

Brandon

Mason
Team Jetstik
Jetstik

Samerai

ATXAJ

CCory
Team Jkap
Jkap

Enable

Galvanize

JohnMLG
Team Karma
Karma

Holly

Baken

FluffyHippo1927
Team King Richard
King Richard

MuTeX

Blazt

TMTwerk
Team Kyle Van Noy
Kyle Van Noy

Fricke Barstool

Nas

Ryygaming
Team LEGIQN
LEGIQN

DrewFrozone

Paradi12e

TheDezmond
Team Marquez
Marquez

Landon

Warzone Great

FirefighterDjay
Team Max Holloway
Max Holloway

PaceSetter

Honokai

AndyLacefield
Team Pamaj
Team Seth Curry
Seth Curry

Finessen

Rawrlo

Ray_Reeve
Team Smitty Barstool
Smitty

MRagsTV

Junior

Skullface49
Team Snypes
Snypes

Jtr1p

MasterTweaker

GD_booya
Team Symfuhny
Symfuhny

Huskers

Sebi

CheezyNacho
Team Vikkstar
Vikkstar

WarsZ

Jukeyz

Calfreezy
Prediction
There are some exceptional teams entering the MFAM Gauntlet June Main Event. Most notably teams such as Team AverageJoewo (6.60 @ Midnite), Team Vikkstar (7.40 @ Midnite), Team Symfunny (7.60 @ Midnite) and Team Aydan (10.50 @ Midnite). However, my prediction to win it all is Team Vikkstar, the British squad should be able to dominate in Verdansk and take home the $24,000. After coming third in last month's event, they'll be looking to beat that and take first place. The addition of Calfreezy will improve this squad even further, while Vikk, WarsZ and Jukeyz have all improved themselves too.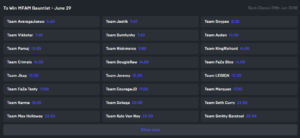 You can watch the MFAM Gauntlet on their Twitch Channel for an overview of the tournament with casters switching between POV's. Or your favourite competitor should be streaming themselves. The leaderboard can be found here. Remember, it starts at 4PM EST and is scheduled to go on until 10PM, if you're in the UK that's 9PM – 3AM.
Tipster Betslip
Tournament Winner
Team Vikkstar

1.0u @ 7.40