League of Legends Worlds 2019 Betting
With League of Legends entering its 10th year as a game, and approaching its 9th Worlds tournament, there are more eyes on this event than ever before. The tournament, which will be held in Europe, will see plenty of new faces competing this year, offering plenty of exciting betting opportunities for League of Legends bettors.
New to the League of Legends competitive scene? We recommend taking some time to learn more about the tournament format and about the teams that will be competing. Let's take you through the ins and outs of betting on League of Legends Worlds 2019.
Upcoming Matches
About the Event
This year marks the ninth competitive international tournament that brings all major League of Legends regions into one place. Each major region sends their top three teams to compete at this tournament, as well as minor regions competing through the play-in stage. There are also wildcard regions that are allowed a single slot to try to climb their way through the ranks of the warriors and prove that their region deserves to be there.
In total, there are 24 teams at the event, with 12 of them having to compete through the play-in stage. The major regions competing are: China (LPL), Europe (LEC), North America (LCS), South Korea (LCK), Taiwan/Hong Kong/Macau (LMS), and Vietnam (VCS). These regions have been recognized as major regions and are allowed to push through a number of teams directly into the Main Event's group stage.
Along with these regions, are minor regions that will be competing in the play-in stage for four spots in the main event. These regions, along with many of the third ranked representatives from the major regions, are: the CIS (LCL), Latin America (LLA), Turkey (TCL), Brazil (CBLoL), Japan (LJL), Oceania (OPL), and Southeast Asia (LST). In the play-in stage, each region only holds one representative each, so many teams are fighting for their lives.
Worlds 2019 Betting Sites
Bracket Play: Worlds 2019 Play-ins and Main Event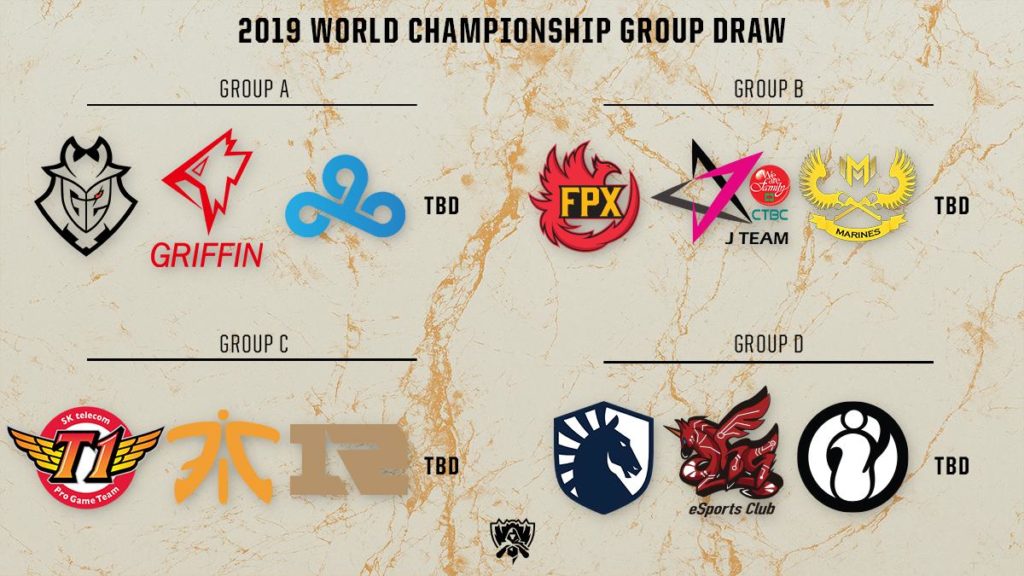 In both the play-in stage and the main event, the brackets are relatively similar.
During the play-ins, teams are sorted into four different groups of three. From there, the teams will play a double round-robin to determine the first and second placed teams of the group.
Following this, each first seed team will enter a bracket with the second seeds of each group.
No two teams from the same play-in group will face off in the first round. From there, the top four teams that win their match will move on to the main event group stage with the major region teams.
In the main event group stage, teams will again battle through a double round robin of best-of-one matches. The top two from each group will advance into the knockout stage, a full bracket in a race to see who will be crowned the world's best team of 2019.
Worlds 2019 Play-In Stage: Who to Bet On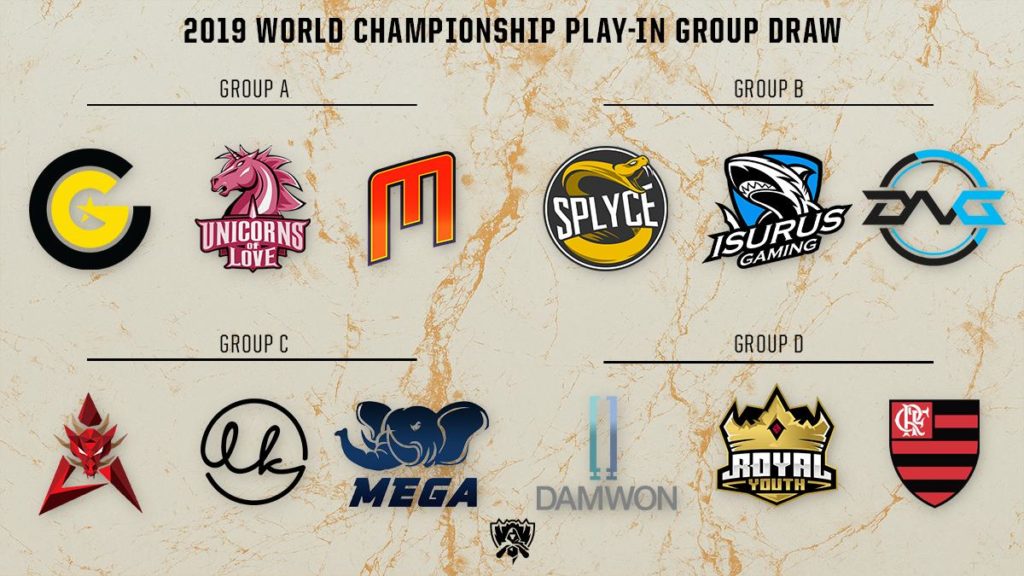 Moving into Worlds 2019 for League of Legends sees the top competitors come out from every region available. No matter where they come from, these are the best of the best, and they are coming to compete.
As these are the best in their respective regions, there are also some teams that are more likely to come out on top than others, but also a chance for a possible upset by a lower seeded team. This all starts within the play-in stage rounds, where we get to see some of the less prominent teams come out and attempt to show up big for their regions.
Of the 12 teams vying for a spot in the group stage, only four will be able to progress. Not sure which team to pick at the bookies? Let's take a look at the competitive landscape for 2019's competition.
Top Dogs of Worlds 2019
Teams: Damwon Gaming, Splyce Gaming
Of the teams within each of the respective groups, these four show the strongest potential of making it out of the play-in group stage. Damwon Gaming currently look to be the most dominant, and with them being slotted into the Group D, the other groups are breathing a slight sigh of relief right now. Seen as the major powerhouse to come out of the play-ins, they are heavily favored for any match they play, which will mean very little return on a bet if they do win.
Splyce also have a relatively easy group. While also showing that they have some sparks of brilliance, they are seen as the top dog in their specific group for the play-in. Of course, as the bookies favourite, the returns for a bet on these two teams won't be as fruitful as a successful bet on an underdog winner, however, according to the bookies, these teams are in prime position to achieve success.
Worlds 2019 Underdogs
Teams: Clutch Gaming, Hong Kong Attitude, Unicorns of Love
With Damwon and Splyce taking the top dog spots, these three teams have shown great potential, but aren't quite as dominant as the favourites listed above. Throughout the regular season and playoffs, they have shown glimpses of excellence, but haven't displayed the consistency to be considered favourites.
Worlds 2019 Esports Betting Bonuses
Where to watch Worlds 2019
If you are interested in getting in on the action, make sure to tune in on October 5th for the start of the Play-In Group Stage. A full event schedule is up the official Riot Games website at Lolesports.com with times and updated matches live.
You will be able to catch all the action through streams on platforms such as Twitch, Youtube, and AfreecaTV, depending on your local region.