In past few weeks, coronavirus has taken a lot of our sport and esport pleasures, and many have been upset about NBA season being suspended. Well it looks like video games are saving the day because this weekend we are about to witness something we've never seen!
As 2K, the National Basketball Association (NBA) and the National Basketball Players Association (NBPA) announced, sixteen current NBA players will challenge each other in NBA 2K Players Tournament, kicking off on Friday, April 3.
Jason Argent, 2K Senior Vice President, Sports Strategy and Licensing said:
"We're thrilled to partner with the NBA and NBPA to bring basketball back to fans throughout the world and to help those in need during these uncertain times. Entertainment, especially sports, has the ability to bring communities together – including athletes, fans and families – and we hope that everyone will enjoy the tournament."
The tournament will be played on Xbox One and the NBA 2K20 champion gets to decide, which charity will receive a $100,000 donation in support of ongoing coronavirus relief efforts. Players will compete in a single-elimination format in first two rounds and then switch to Bo3 in semi-finals and finals.
Matt Holt, NBA SVP of Global Partnerships added:
"We are excited to tip off the first 'NBA 2K Players Tournament' in partnership with the NBPA and 2K, continuing an ongoing effort to stay connected with NBA fans around the world, while also giving back in this time of need"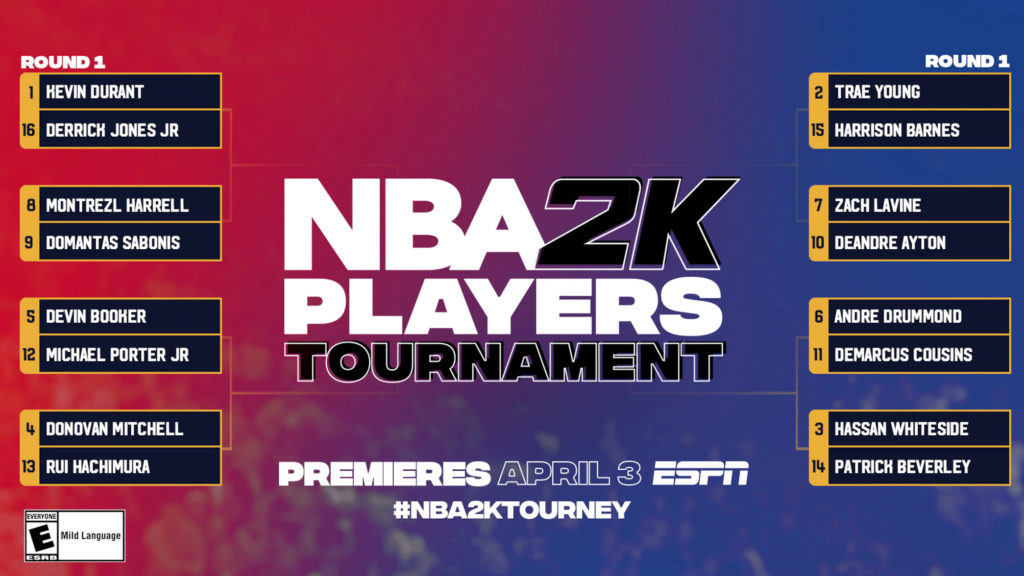 Players' seeding is determined by NBA 2K rating and tenure. Top seeds amongst participating players are Kevin Durant of the Brooklyn Nets and Trae Young of the Atlanta Hawks. Before the tournament starts, every player will choose eight of today's NBA teams, each of which can only be used once. If a mirror match is set, the away team is awarded first choice of team.
Players competing in the NBA 2K Players Tournament
The following list shows players competing, as well as their team, seeding and player rating:
Kevin Durant, Brooklyn Nets (96)
Trae Young, Atlanta Hawks (90)
Hassan Whiteside, Portland Trail Blazers (87)
Donovan Mitchell, Utah Jazz (87)
Devin Booker, Phoenix Suns (86)
Andre Drummond, Cleveland Cavaliers (85)
Zach LaVine, Chicago Bulls (85)
Montrezl Harrell, LA Clippers (85)
Domantas Sabonis, Indiana Pacers (85)
Deandre Ayton, Phoenix Suns (85)
DeMarcus Cousins (81)
Michael Porter Jr., Denver Nuggets (81)
Rui Hachimura, Washington Wizards (79)
Patrick Beverley, LA Clippers (78)
Harrison Barnes, Sacramento Kings (78)
Derrick Jones Jr., Miami Heat (78)
How to watch the NBA 2K Players Tournament
All matches will be broadcasted on ESPN and ESPN2, as well as live streamed on NBA.com, the ESPN App and NBA App, plus on both @NBA and @NBA2K social channels on Twitter, Facebook, YouTube and Twitch.
The tournament begins this Friday, April 3 at 7:00 p.m. EST with a matchup between Derrick Jones Jr. and Kevin Durant. The matches of Round 1 will continue on Sunday, April 5 from 12 p.m. EST. You can find our esports betting tips for this NBA 2K round over in our tips section.
The quarter finals are scheduled on Tuesday, April 7 at 7 p.m. EST. The NBA 2K20 champion will be crowned on Saturday, April 11 after semi-final matches, with timing to be announced.
Where to bet on the NBA 2K Players Tournament
[sportbooks games="181842″]