Recently, Psyonix announced its new format for the Rocket League Championship Series (RLCS). The RCLS has spanned nine seasons so far, but this refresh will provide a longer season, with more open bracket events.
The new Championship Series, dubbed the RLCS X will have a $4.5 million (£3.6 million) prize pool which is split across the whole season. The end of the season will finish with the Rocket League World Championship event, an event which has seen teams such as Dignitas, G2, NRG and Reciprocity take the crown.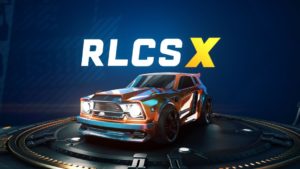 In a release from Psyonix, they said the RLCS X will "open up high-level competition to even more teams than before while rewarding steady performance via a points-based structure." It will also allow Psyonix more flexibility as to hosting live events given the current pandemic.
The previous RLCS format saw seasons occur approximately twice a year, with the World Championships at the end of the season. This format also features weekly league play for qualified teams across North America, Europe, Oceania and South America.
The New RLCS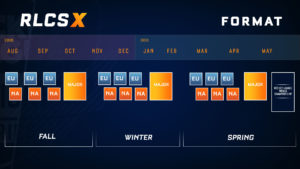 In Psyonix's press release, they elaborated on the RLCS X format:
"We're moving away from the League Play format and bi-annual seasons. RLCS X will be an open event-based circuit format that culminates in an annual Rocket League World Championship. We believe this format strikes a healthy balance between open competition. And rewarding consistent, high-level performance. It also gives us the flexibility to continue to award points towards World Championship qualification. If live international events are not possible during the season due to world wide health concerns."
Let's dive deeper into RLCS X
Three Splits constitute a full season (Fall, Winter, and Spring)

Each Split will feature three standalone Regional Events for both North America and Europe (six between the two regions for a total of 18 Regional Events per season)

All Regional Events will begin with an Open Qualifier on

Battlefy

Each Split will culminate with a Major (three Majors per season)

All three Splits will showcase a different tournament format

The Fall Split is a 32-team tournament format

The Winter Split will be a 24-team format

The Spring Split will be a 20-team format

Regional Events will provide $100,000 in prizing per event

Majors will provide $250,000 in prizing per Split

The Rocket League World Championship will provide $1,000,000 in prizing

By the end of the season, more than $4,500,000 in prizing will be awarded across all regions
The New Rocket League World Championships
The end of season Rocket League World Championships will be expanded to 16 teams as a result of this new structure. Six North American, Six European and two each from Oceania and South America. This will also feature a $1 million (£801,250) prize pool.
Season 1 of the RLCS (fall) starts on August 1st with sign ups for the open qualifiers open already. All Fall events will be held online however they are looking to hold LAN events as soon as it is safe to do so.
RLCS: The Grid
Along with this, there will be weekly competitions called RLCS: The Grid. This allows teams to earn prize money and points towards qualification for each split's Major. Similarly to CS:GO's RMR points.
Here's how The Grid works:
Nine weekly tournaments per RLCS Split

Teams earn Grid Points and a cut of a $10,000 (per region) weekly prize pool

The Grid will inform seeding for RLCS Regional Events

The team with the highest accumulated Grid Points will qualify for that Split's Major

At the end of each Split the top ten teams retain their spots, while the bottom six teams will have to fight for their spots in The Grid

The 16 teams invited to the first season of The Grid are the teams that earned RLCS and Rival Series auto-qualifications via their performance in Season 9

Grid Points will reset after each Split and can't be used to qualify for the World Championship.
This is a massive change for Rocket League Championship Series, and Psyonix hopes that the RLCS X can be revolutionary for the scene. This change looks to expand the pool of talent on show in Rocket League esports giving more opportunities with open qualifiers.