After five long weeks, the following teams are now confirmed to be heading to the playoff stage of The Overwatch League; Vancouver Titans, New York Excelsior, Philadelphia Fusion, Toronto Defiant, Atlanta Reign, San Francisco Shock, Seoul Dynasty and Boston Uprising.
The playoffs will see the eight teams compete in a seeded playoff bracket with a staggering $500,000 up for grabs. The prize pool breakdown for the event is as follows:
1st –  $200,000
2nd – $100,000
3rd & 4th – $50,000
5th -> 8th – $25,000
Heading into season two, Activision Blizzard sold an additional eight team slots, welcoming new expansion teams to the league. There was lots of speculation initially on how the new kids on the block would fare, however, three out of the eight teams going to playoffs are expansion teams, those being Atlanta Reign, Toronto Defiant and Vancouver Titans who finished stage one at the top of the standings.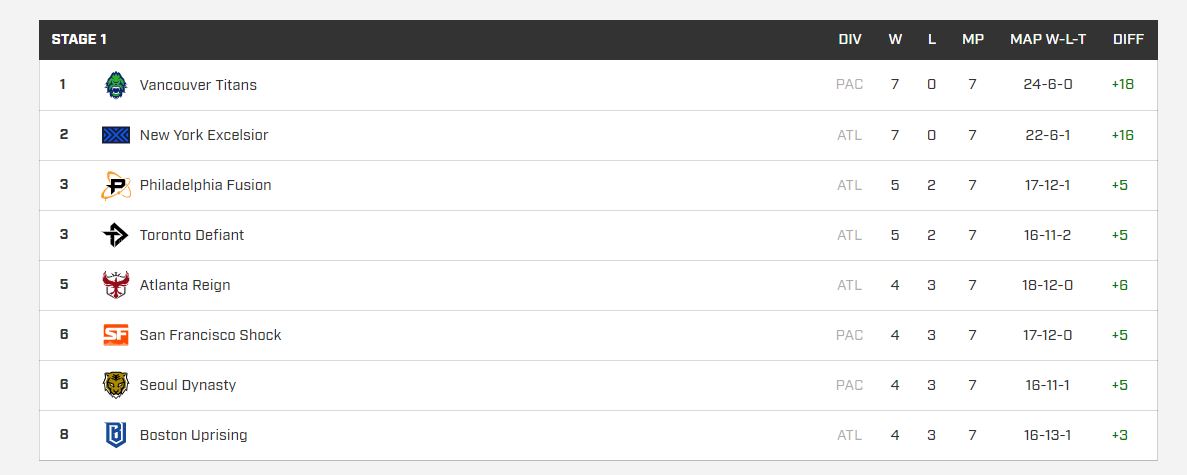 While most teams final seeding was decided there were some ties to settle between Philadelphia Fusion, Toronto Defiant, San Francisco Shock and Seoul Dynasty. The Overwatch League gave the teams the choice to either battle it out or leave it to fate with a coin toss.
Toronto Defiant and Philadelphia Fusion took part in a coin flip to decide placements, with the flip going in favour of Toronto and therefore securing them the third seed and Philadelphia taking fourth. While a decider like this sounds simple enough to execute, there was a miss communication leading to Overwatch League commissioner Nate Nazer, who initially announced the wrong winner.  Nanzer addressed his error on Reddit, confirming the method would never be used again: "Sorry for messing that up I PROMISE that we will never decide anything that way ever again."
On the other side, San Francisco Shock and Seoul Dynasty choose to go head-t0-head with a standard first-to-win three maps series. The series took place off-line, however, Overwatch provided updates on Twitter in which they named San Francisco Shock as the winners with a 3-0 result.
With all placements finalised, the bracket has been set and the playoff games will take place as follows:
THURSDAY 21ST MARCH (6:00PM PST) / FRIDAY  22ND MARCH (01:00 GMT)
Seoul Dynasty vs. New York Excelsior
Boston Uprising vs. Vancouver Titans
FRIDAY  22ND MARCH (6:00PM PST) / SATURDAY
23RD

MARCH (01:00 GMT)

Atlanta Reign vs. Philadelphia Fusion
San Francisco Shock vs. Toronto Defiant

Once all matches are completed, the semifinals will take place on March 23 with the finals following on March 24. The last two stages will see the Overwatch League games air on the ABC for the first time. It is also confirmed ABC will air the Stage 2 semifinals and finals, as well as the Overwatch League All-Star Game.