Bet on Faceit Major
Twice a year, the world's best CS:GO players will play at a Valve sanctioned major for the lion's share of $1 million dollars and the prestigious major title. The next iteration of the most illustrious event in CS:GO, The Faceit Major, is set to take place in London and will run from September 5th-23rd, encompassing a huge two and a half weeks of top tier CS:GO action. This major is one of the largest CS:GO tournaments on the circuit and it has become a major attraction for esports betting enthusiasts.
Fancy a flutter on Faceit Major? SickOdds has put together a comprehensive list of the best betting operators for the event, featuring bookies offering the best Faceit Major odds available online. Betting with an esportsbook from our handpicked list will also give you exclusive access to generous welcome bonuses, rewarding promotions and unrivalled market coverage – all you need to do is sign up.
FaceIt Major 2018 Odds
Much like any other major esports competition, everyone has their favourites to win going into the event. However, when it comes to betting there are perhaps none more important than the bookies favourites. These participants have the highest probability of winning, according to your chosen betting site, and are therefore attributed with the least favourable odds. While the favourites to win and price offered can vary slightly from one site to another, you'll find that the outright markets offered at most sites are relatively similar.
So it's up to you to decide – are the bookies right, or have they missed a trick? If you're in the know, you could very well take advantage of some great odds on an underdog and land a big money return. Whichever CS:GO team you decide to back, you're sure to find your best bet right here at Sick Odds. Plus, you'll find the best odds available online for each individual Faceit Major match up —from the New Challengers stage to the New Champions stage— at our featured bookies. Our match odds for The Faceit Major 2018 are shown in real time, with odds that are updated every minute.
As many would expect, the thirteenth CS:GO Major tournament isn't short of attractive betting opportunities. Betway are currently offering odds on outright winners that range between 2.40 for Astralis, to 251.00 for Winstrike. FaZe, Natus Vincere and MiBR rank among the favourites following Astralis —who are also favourites at Bet365 and ArcaneBet— at odds of 6.00, 6.50 and 9.00, respectively.
Picking a Faceit Major Winner
CS:GO Majors have presented some huge upsets over the years, from NiP's ELEAGUE Major Qualifier elimination at the hands of Vega Squadron, to Liquid's run at ESL One Cologne 2016. It's up to you to identify the best opportunities and get the best bang for their buck, whether it's backing your favourite team through a lengthy winning streak or potentially earning a big return by backing an underdog. But how exactly can those new to the scene find the best betting value? Sure, you could pick up some valuable betting tips from those 'in the know', whether it's your favourite esports pundit or an online tipster. However, we'd always recommend doing your own research if you want to become a successful bettor.
The contestants at FaceIt Major have put in years of practice to reach the highest level in competitive CS:GO; fortunately it'll only take you a few moments to get up to scratch with the competitive scene. Power rankings, recent results and a basic understanding of how the game is played are all great places to start when looking for a bit of guidance at the bookies. However, there's arguably no better preparation than simply watching some recent CS:GO games involving Faceit Major participants, to get a feel for the scene.
Faceit Major Betting Markets
When looking to place your bets on the upcoming major, make sure to not lose sight of all the different types of bets you can place. Tournament winner is not the only type of esports betting market offered. In fact, there are many different markets you could bet on to maximise your winnings. Here are a few of the different markets which our featured sites offer:
History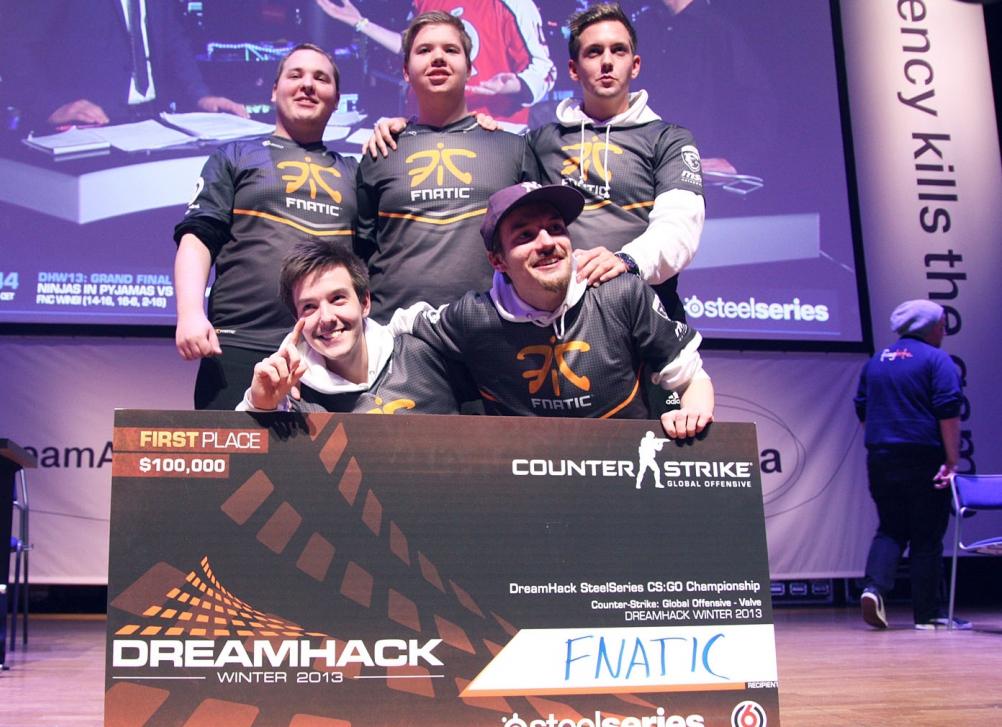 Majors have always been considered cornerstones of competitive Counter-Strike, with major winners being immortalized in the minds of CS:GO fans around the globe. From DreamHack Winter in 2013, CS:GO has come a long way in terms of viewership, spectacle and prize money. Fnatic were the first team to walk away with a major prize, taking home a cool $100,000 for their first place finish. To put that into perspective, The Faceit Major will see teams battling to win $1,000,000 in London, as well as the most distinguished title in all of Counter-Strike.
Ever since late 2013, majors have been getting more grand, with organizers stepping up again and again to build some of the greatest esports tournaments that have ever taken place. Most recently, Cloud9 as the underdogs took home a championship in Boston, making them the first ever North American team to win the biggest prize in the game. The Boston Major was operated by ELEAGUE, an organizer owned by Turner, who have endless experience with mainstream television broadcasting. This made the tournament incredibly slick from a production point-of-view, which was a first for Counter-Strike. In London, Faceit look to put on an equally impressive showing, which is set to be just as exciting.
Faceit Major Tournament Format
The main event, held in the SSE Arena at Wembley Stadium will be comprised of the top eight teams, with a number preliminary games to be played beforehand.
The New Challengers Stage
The first stage of the major is made up of the qualifying teams from all around the world, with teams hailing from as far away from London as Australia. This first round will pit the top eight qualifying teams against the bottom eight from the previous major, in a Swiss style best-of-one bracket in order to establish The New Legends.
The New Legends Stage
The final sixteen teams will go head to head in order to determine the top eight at the Faceit Major. This stage will again take place in the five-round Swiss format, essentially meaning that teams must win three games to advance or lose three games to be eliminated. The teams which progress from this stage will be granted Legend status (a guaranteed invite to the next New Legends stage) and a top eight berth in the arena.
The New Champions Stage
This is the last stage of the major, ending with the eventual champion of the world. The format here is fairly straightforward, having a single elimination bracket of best-of-threes. Win and you're through, lose and you're out – simple enough. The remaining team will be crowned major champions.
Find your esports bookie
CS:GO tournaments are reasonably frequent occurrences, however a major only takes place twice a year. Take advantage of the apex of the CS:GO circuit and find the best betting opportunities at our featured esports betting sites. We have the best Counter-Strike bookies available, each offering comprehensive match coverage, along with a host of other esports. With these bookies you can expect secure payments, rewarding bonuses and the sickest odds. The only thing left for you to do is to pick your winner, sign up and start betting!
Faceit Major FAQ
Can I place in-play bets on CS:GO?
Yes. In fact, with at least 16 rounds occurring in every single game, there are more than enough betting opportunities during each game to make a tidy profit. You'll be able to place in-play bets on winners of rounds, matches, or series.
How do I watch the Faceit Major?
CS:GO esports are generally streamed online. The Faceit Major will be available in official English streams on both Twitch and YouTube. Not sure where you can follow your favourite esports live? Our guide is sure to help you find the best place to watch esports online.
Can I bet on CS:GO with my mobile device?
Pretty much every top bookie offers a mobile web app these days, so you'll be able to bet on CS:GO on the go with most web-enabled mobile devices. Some betting operators even offer native apps available for download. All you'll need is an internet connection and you'll be able to place your bets. You won't have to make any compromises either, as the majority of mobile apps offer the same fast payment methods as desktop games.
Should I use odds given by bookies to guide my betting choices?
This choice is yours, of course, but it's recommended that you carry out your own research and place well-informed bets rather than depending on the prices at your chosen esports betting site. The bookies aren't always right, and if you've done your homework you'll be able to spot these instances – they make for great betting opportunities.