One of the best things about Esports is that it is, for the most part, geographically ambiguous, allowing for fans to watch their favourite teams and players competing in tournaments from the other side of the world in real-time. The live experience of actually being in the same stadium still can't compare, but by allowing the world to tune in online, the doors are open to everyone. The League of Legends Worlds 2017 tournament had over 2 million fans tune in for grand finals between Samsung Galaxy and SKT1 (and that doesn't even include the Chinese viewership as these numbers are heavily debated).
Skip Ahead
From a recent study by NewZoo it was reported that a massive 42% of all esports game players also watch esports streams, and 23% of study participants watch esports titles without playing the game itself. With these numbers in mind it goes to show that esports can be enjoyed by both players and non-players alike, admiring the skill of the players and teams regardless of personal experience. If you're looking for a new game to watch we'd definitely recommend Counter Strike or Rainbow 6: Siege as these are the easiest to watch and pick up, in our opinion, without having played the games and learnt strategies.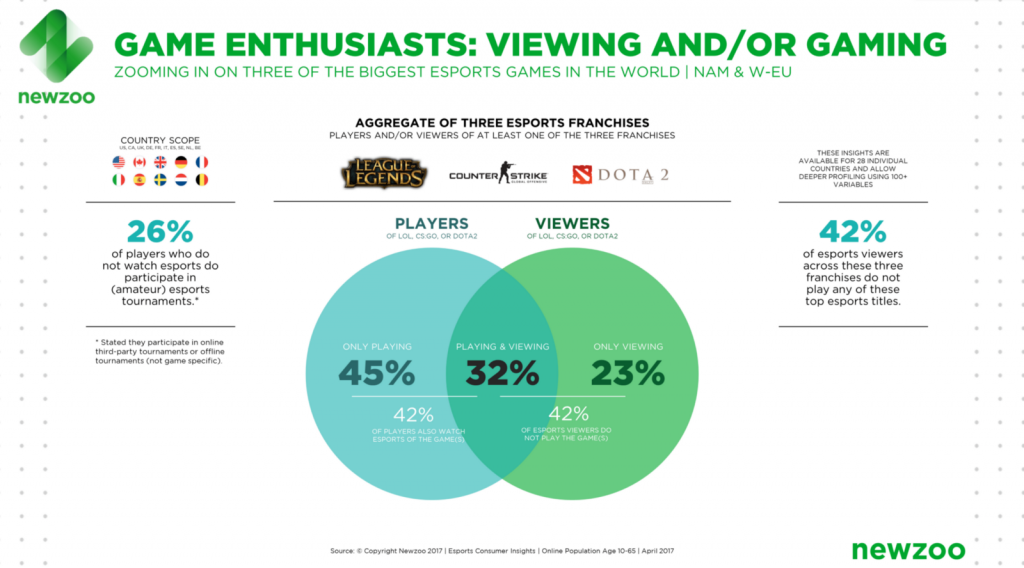 These advances in streaming technologies and internet speeds in general have also brought with it the infrastructure for live in-game esports betting. It is possible to stream a match through a bookmaker whilst also following real-time match odds as the game unfolds. This can be extremely exciting as a single kill or objective can change the entire outcome of a game in an instant and with good knowledge of the teams playing and the game itself you can begin to predict the outcomes with a high degree of probability.
Watch Esports on Twitch
When most people think about live esports streaming, they think of Twitch. Twitch has the most concurrent streamers and tournaments by far and offers the most variation of gaming titles to watch. It's common for esports titles like League of Legends, Fortnite and CS:GO to have the top viewing spots, with over 100,000 concurrent fans watching and cheering along at any one time.
Twitch allows its users to watch both professionally hosted esports tournaments in 1080p, as well as watch their favourite individual streamers playing games. These streamers could be practicing for an upcoming tournament, or just an amateur playing from home and sharing their experience. This vast scale means that there will always be something to watch and if you're interested in streaming yourself then they've made it extremely easy to start. Streamers like Imaqtpie and Shroud stream almost daily and put out content to hundreds of thousands of concurrent viewers, earning over $1,000,000 a year through adverts and sponsorship deals. With that we can see why so many talented and personable younger gamers are signing up to the platform!
With the rise in popularity of Twitch, a strong community has also been built up around this, both for streamers and the fans themselves. When watching a game you you can chat with other viewers while emotes, memes and friendly banter are thrown around excessively. These chat rooms are generally moderated quite actively, but if you're watching with a young person then it may be worth disabling the chat whilst watching as censorship can't be guaranteed.
When Twitch was first founded in 2011 it originally focused almost entirely on video games but has since expanded to include streams dedicated to artwork creation, music, talk shows, and the occasional TV series. This has given an additional layer of diversity to the platform, though esports is still, without doubt, the main draw to it's viewership.
After Amazon's acquisition in 2014, Twitch remains one of the highest sources of internet traffic in North America with more than two million unique streamers every month and nearly a billion hours of content digested daily.
Esports on YouTube
YouTube Gaming, Google's rival platform to Twitch, followed on from Twitch's success by allowing for gamers to live stream their gameplay directly to the YouTube platform and keep a catalogue of their past streams for their fans to enjoy instantly. With YouTube already having a massive audience that were searching for gaming videos, with Minecraft tutorials and Call of Duty montages being some of the most popular videos, it was a logical step to expand into live streaming.
YouTube Gaming has proved to be more popular for casual streamers and mobile gaming, with 5 mobile games featuring in the top 20 games played on the platform. This could be due to the "professional" perception of Twitch and more casual, wide-spread non-esports appeal of YouTube, combined with the lower volume of comments per video allowing for reduced moderation requirements.
One of the biggest appeals of YouTube is its globally understood and accepted user experience, as everyone has used the website at some point and can navigate its content easily. Through testing on lower speed connections we have also found that the buffering speed for YouTube Gaming videos appears superior to that of Twitch's, allowing for a better mobile experience.
The downside of the platform, however, is that there are fewer esports tournaments live streamed with only the main titles, such as League of Legends Worlds or CS:GO ESL One, making an appearance. Smaller titles still generally tend to focus on Twitch as their is a bigger esports audience.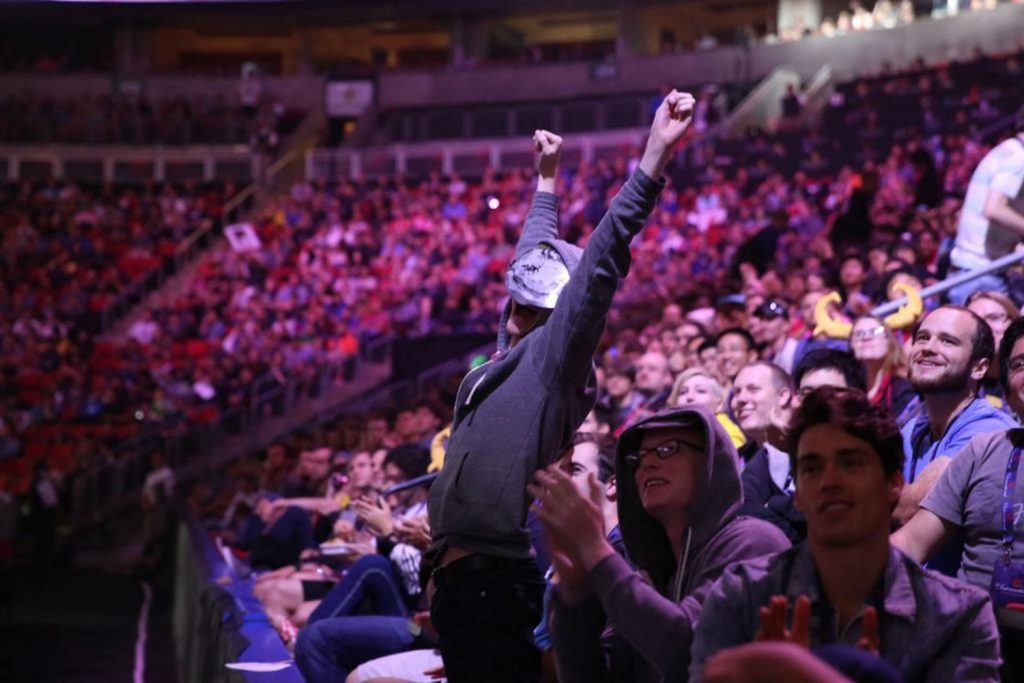 Facebook Esports Streaming
Facebook is still finding it's feet as a game streaming platform and doesn't have a browsable functionality like Twitch or YouTube gaming. Instead it relies on the user to follow / like a page or person that can push a notification out that it has begun streaming, allowing you to watch it directly on your news feed.
This is a great way to watch your friends play and share your casual gameplay, but outside of that the platform is currently quite lacking. We're excited to see what Facebook do to compete with the bigger players in the esports scene with their existing infrastructure and money behind them.
In quite a bizarre deal, Facebook Live secured an exclusive esports streaming deal with ESL earlier this year to have exclusive rights to a small number of their upcoming major tournaments, including games like Counter-Strike: Global Offensive and Dota 2. The streams will be aired in 1080p at 60fps and in multiple languages, which will give for a fantastic user experience. This is a massive move for Facebook to gain a large viewership, though it was met with some contention as Facebook isn't a true esports platform and it confines people to watch it on a platform they're not comfortable with. While Facebook's partnership with ESL indicates a major step forward for the platform's esports users, their approach is unlikely to resonate and will no doubt need adjusting in the future.
Live ESPN & BBC Esports
As esports and gaming has become more mainstream, some of the big broadcasting houses have started to pick up some of the bigger tournaments to be aired directly to TV, capturing an entirely new fan base outside of the existing online communities. This new "couch" esports fan can tune in instantly and see big esports tournaments with high quality production values. You do lose out on the text-chat community that you get with the other online platforms, but for many people this isn't necessary for a great viewing experience.
Currently we're limited to the very few tournaments that are picked up by the networks, but from what we've seen GFinity Esports Series featured on BBC Three in the UK and Blizzard's Overwatch League on ESPN in America. These are 2 major tournaments on very prominent channels with massive viewerships. There will always been some sketchy reception from traditional sports fans that don't understand the scene, but ESPN can see that esports will be a major future player and is backing it strongly.
You also can't have the freedom to watch individual streamers as you can with other platforms, but TV broadcasts will always be focussed on providing content that appeals to the mass audience due to the fact it's a single channel. So if you're looking for big esports titles with high production values, TV may be for you!