Third time's the charm! Aydan has finally won a Warzone Wednesday final with his partner MuTeX 
After a three week reign, Vikkstar and WarsZ have finally been shut down. Aydan and MuTeX knocked them out in Winners Semi-Finals and put them down to the losers bracket. A hard fought game against Jukeyz and King Richard saw them sent home early. However, this week's Warzone Wednesday didn't go as planned.
Many teams did not enter this weeks competition, this meant only 13 teams participated:
Aydan & MuTeX

Trainwreck & Felo

IceManIssac & Wuskin

Vikkstar123 & WarsZ

DougisRaw & TeePee

NICKMERCS & Swagg

Bobbypoff & Tommey

KingRichard & Jukeyz

Tourva & Censor

Symfuhny & HusKerrs

Speros & Dwarf Mamba

Calfreezy & Zerkaa

Testyment & Avxry
Because only 13 teams entered, 4 teams got a bye through the first round. This is extremely lucky for the teams who got a bye as this guarantees them a chance to access the losers bracket. Losing in round one puts you out of the tournament straight away. However, in round two and beyond if you lose you get a second chance in the losers bracket. 
Their Journey to Victory
MuTeX (a previous MFAM Gauntlet winner) and Aydan (popular twitch streamer) didn't get a bye through the first round. They beat Trainwrecks and Felo. Then Testyment and Avxry, Vikkstar and WarsZ and DougisRaw and TeePee. Following this, they lost in the first series of the grand final to KingRichard and Jukeyz. However, because MuTeX and Aydan have come through the winners bracket, they get another series. In this final series they beat KingRichard and Jukeyz by 2 kills after KingRichard died to a C4 only needed 2 more kills.
Although it didn't change the outcome of the final, there are rumours of stream sniping from KingRichard and Jukeyz. Twitch user 'jsanimal' can be seen in Jukeyz chat saying "Don't worry, I Aydan boys". This is the same username that killed Aydan and MuTeX in-game. However, both KingRichard and Jukeyz covered their screens while loading into the game, making it very hard for someone to stream snipe.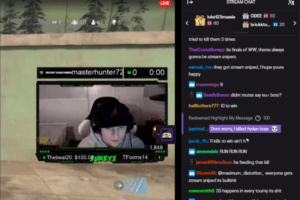 Warzone Wednesday returns next week, in Season 4 of Modern Warfare and Warzone. Hopefully all 16 teams enter, and the action is as intense as last night.