ELEAGUE has announced that it will be hosting the first ever Gears 5 esports tournament this summer.
The ELEAGUE Gears Summer Series Invitational will take place from July 13-14th at the ELEAGUE Arena in Atlanta. The Invitational will see eight teams including Mazer, OpTic Gaming, Ghost Gaming, Team Reciprocity, Rise Nation, Simplicity, EU's Finest, and Glory go head-to-head.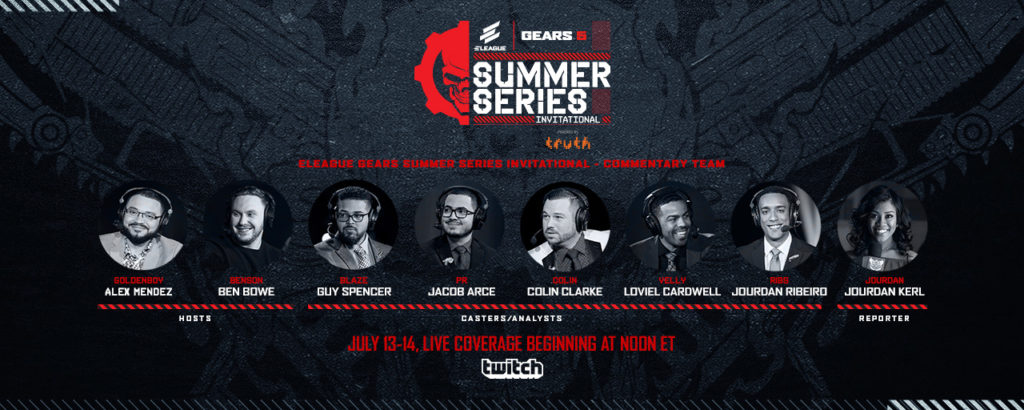 Live streaming coverage of the Invitational will be hosted by Alex "Goldenboy" Mendez, with analysis from a panel of Gears of War experts including former professional player Jourdan "Ribs" Ribeiro, retired coach Jacob "PR" Arce and casters Ben "Benson" Bowe, Guy "Blaze" Spencer, Colin Clarke, Loviel "Velly" Cardwell and reporter Jourdan Kerl.
Fans who watch on live.gearsofwar.com can also earn exclusive in-game content playable within Gears 4 and Gears 5 (upon its release). Live coverage beginning each day at Noon ET (8:00 PM GMT) on ELEAGUE's Twitch channel and live.gearsofwar.com.
In addition, to the Gears 5 Invitational, ELEAGUE has produced six, hour-long feature episodes providing backstage access to the Gears of War community. The series will include a deeper look into the lives of star players as they train and perform around the world. ELEAGUE Gears Summer Series: The Bonds and Betrayals of Brotherhood will continue Friday, June 28th on TBS.
At the Microsoft E3 conference, it was announced that Gears 5 will drop on September 10th. The game will act as the second chapter in a new trilogy for the Gears franchise and will be available on Xbox One and PC.