Imersiv is a friendly and easy to use esports betting site, where players will be able to find fast, reliable statistics and engage socially through their interactive community chat. With their tag line specifically focussing on the ability to bet whilst in-play, they have invested heavily in artificial intelligence as a means of quick, hassle free interactions.
Currently in private beta, we were invited to explore the platform and take it for a test drive. The dark design is very slick and effortless to navigate, with some really exciting functionality that we can't go into just yet. The market offering is extremely extensive, and through the integration of AI technologies has extensive, quickly updated in-play markets.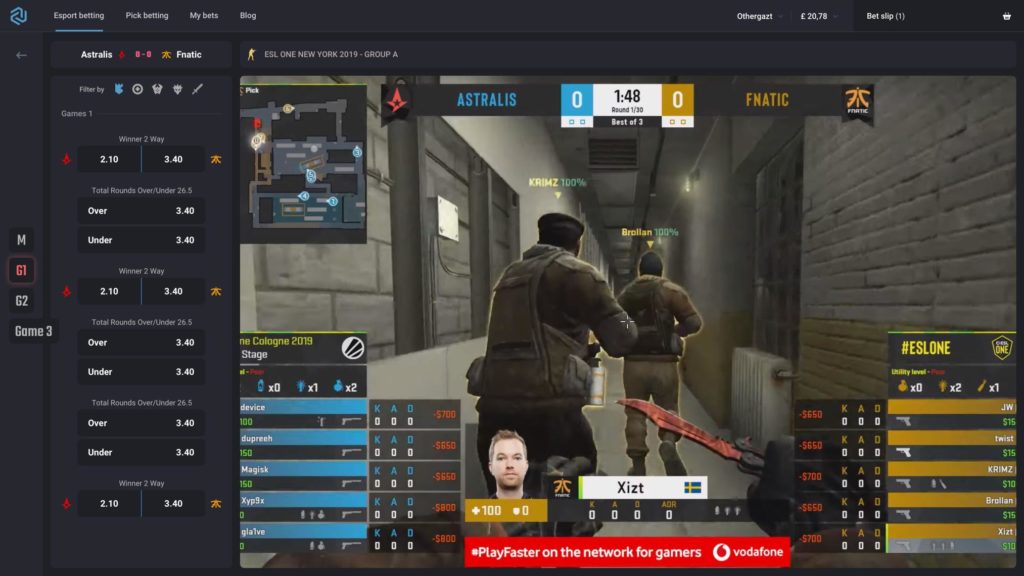 Streaming a variety of tier 1 titles, from League of Legends, to Dota 2, to CS:GO, it is definitely a sportbook worthy of an investigation and a welcomed betting service to the industry.
Boasting the 'world's greatest coverage' when it comes to new odds markets, the service is simple, safe and fast to use throughout. Through a partnership with specialist esports data provider, Pandascore, to power their markets and lines through AI, Imersiv will have a data powerhouse behind them to power their platform.
This technology allows us to be more accurate, faster and more efficient. For example, today under LoL we are able to offer more than 300 markets with different ratings. We have a huge market size with huge odds, one of the largest in the world.
The Imersiv team are currently working to acquire a UK Gambling License, however there is now a Free-To-Play mode in the form of tournament betting for all other countries whilst that's progressing. In addition to this there will be prizes and giveaways to be won, this includes the opportunity for fans to win RP throughout the Worlds 2019 event. Imersiv have already given away 1000's of RP to its alpha users during the Worlds 2019 event, pitting them against each other to find the best underdog picks.
When speaking with Julien Jonval, Co-Founder of Imersiv, he was able to shed some exciting thoughts for the future of the platform:
We also focus on social interaction, which is why in the future we want to integrate several social features to allow players to exchange. But above all we want to create an immersive platform and allow fans to bet while watching their games. We are developing an interface that will allow them to do this easily.

We also want to reduce the untimely interruption of the odds (you see the pretty haha padlocks) and allow players to bet at any time, even during a current game. To do this, we work with a partner who provides us with real-time statistics via the vision computer and the AI.
Registration is now available through the website, so make sure you join up via their website to join the Free-To-Play stage and earn some rewards. Early adopters will also be greeted with a betting bonus to make the wait worthwhile when the licensed platform releases in the near future. Fans of esports betting can also join in with the team via discord, where they can ask any questions to the team, keep up to date or share their experiences.