Natus Vincere have managed to claim an event win for the first time since BLAST Pro Series in Copenhagen last year. Taking the top spot at StarSeries i-League Season 7 in Shanghai, Oleksandr "s1mple" Kostyliev and his teammates put on a decent display throughout the week to claim $250,000.
It's worth noting that the top best teams in the entirety of Counter-Strike: Global Offensive – Astralis and Team Liquid – were not in attendance in Shanghai this time round; reserving themselves for what's to come instead.
The placements for StarSeries i-League Season 7 went as follows:
1. Natus Vincere – $250,000
2. Fnatic – $80,000
3-4. NRG Esports, Renegades – $30,000
5-8. Team Vitality, North, Ninjas in Pyjamas, ENCE – $15,000
9-11. Team Spirit, BIG, FaZe Clan – $8,500
12-14. ViCi Gaming, MIBR, TyLoo – $5,500
15-16. paiN Gaming, Panda Gaming – $4,000
Coming into the event, ENCE were the third seed in HLTV's world rankings so all eyes were on them to prove that they deserve such a placement. They ended up losing in a close 2-1 series to Team Vitality and then 2-1 to Natus Vincere in the quarterfinals, ending their run at the event.
Natus Vincere didn't have too much trouble throughout the weekend besides an out-of-character defeat at the hands of ViCi Gaming at the very beginning of their campaign. They followed up the loss with a convincing 2-0 victory of BIG, a 2-1 showing against Ninjas in Pyjamas, and a strong 2-0 win over NRG Esports.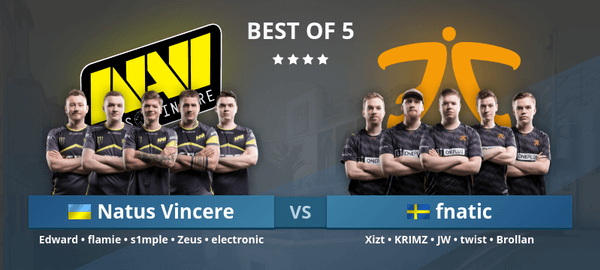 Moving into the playoffs, Natus Vincere took down ENCE and then put down Renegades (ignoring a shocking blowout defeat on the second map) to move onto the grand finals. Facing off against Fnatic – who surprised practically everybody considering their recent poor performances in other tournaments – the CIS squad looked in their element. A swift 3-0 scoreline handed them the trophy but it's hard to say they're a world-class team considering the top two teams weren't in attendance.
Looking forward, Natus Vincere have ESL Pro League and BLAST Pro Series Miami to focus on in the near future.