Today, Riot Games announced the 'Valorant Ignition Series'. This marks their first step into Valorant esports 
The Valorant Ignition Series kicks off on June 19th and will be a weekly series of tournaments supported by Riot Games.
Riot Games' Whalen 'Magus' Rozelle and Kasra 'Curiouskaz' Jafroodi had this to say in the announcement. 
"Today we're announcing the Ignition Series. Our first step after launch to build a robust competitive ecosystem for VALORANT. At this early stage, it's important for the esports scene to grow naturally. In a way that will authentically develop talent, players, and stars. VALORANT esports should reflect the voice of the community. Which will only be possible if you continue to provide us with feedback at every step. We're committed to building VALORANT on the core pillars of competitive integrity, accessibility, and authenticity to create an experience that will captivate you for many years to come."

"As such, we're introducing the VALORANT Ignition Series, an official Riot-partner program where we spotlight a few tournaments each week, help discover talented players, and build global recognition for top VALORANT pros and teams. 

To create the Ignition Series, we've partnered with more than 20 esports organizations around the world to bring you VALORANT events."

"Each organizer will use their expertise to design their own unique Ignition Series tournament—we expect to see a combination of competitive open qualifiers, show matches, and invitationals featuring top players of the game, established personalities, and aspiring amateurs."

"In places where VALORANT has launched, Ignition Series tournaments will provide players with the opportunity to begin building their region's competitive legacy. While we're only announcing a few tournaments today. The Ignition Series will have events in North America, Brazil, Latin America, Korea, Japan, South East Asia, Oceania, Europe, Russia, Turkey, and the Middle East."

"Riot Games will support Ignition Series events with amplification through our channels. A dedicated page with an updated schedule, and sharing lessons between tournament organizers to improve the experience week over week. We're working with partners to lock in additional events – expect the Ignition Series to run through the fall."
How far can the Valorant Ignition Series really go?
The Valorant Ignition Series will see many esports teams partner with Riot to create and run these tournaments. The First of which, The G2 Valorant Invitational sees eight team captains go to battle. But these captains won't know their team until the day of the event. Therefore raw talent and skill may lead teams to victory here. Could we see some of the possible Team Vitality roster here?
Japanese esports event hosts RAGE will host the second Valorant Ignition Series tournament . Here 16 invited teams will battle it out for the winner-takes-all prize of 500,000 Yen. Teams such as DetonatioN Gaming and JUPITER are expected to compete in this event.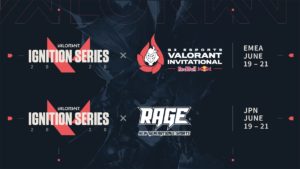 With weekly Valorant tournaments backed by Riot Games now officially announced, it will be interesting to see how far Valorant can go as an esport. Does it have success waiting for it? We'll have to wait and see.