TwitchCon to host $500,000 Apex Legends tournament
This year TwitchCon will be hosted in San Diego, bringing gaming fans and streamers from all around the world together. The event features plenty of talks and panels from industry leaders, meet-and-greets with some of the top Twitch personalities and, most importantly, brings Twitch Rivals along with it.
Twitch Rivals brings some of the top competitive Twitch talent together to compete in a range of esports titles. These usually  include popular titles like League of Legends, but also feature titles that lack a structured competitive scene. This time around we'll see Apex Legends closing out the event, giving it ample time on the main stage and bringing top talent together to compete.
For esports bettors this is one of the rare times that sportbooks will offer markets for these under-represented titles and there's the potential to make some fantastic profit in the process.
Twitch Rivals Apex Legends Format
With a whopping $500,000 prize pool, players will be competing to get as many eliminations as possible in order to take home the lions share.
One of the hardest hurdles for Battle Royale esports has been the allocation of points. Using the previous Twitch Apex tournaments as a basis, there will be prize money awarded for not only team placement but also eliminations achieved. If this is the case, teams that go down in a blaze of glory will garner just as much as a team that avoids conflict until the final circle.
With this also being a Twitch sponsored event it's our hope that streamers will be wanting to put on a show for their fans, trying for flashy kills and doing some sky parkour with Pathfinder. The Stream Teams may take the event more seriously as they will persist throughout the entire event, but the remaining 45 individuals will be going for a quick buck.
In addition to placement and kills, individual Twitch streamers and personalities will receive a healthy bonus if they eliminate a member of a Stream Team. This will make for some exciting firefights whilst the circles closing as we expect to see streamers laying it all on the line to knock out the qualified teams.
There's cash on the line for each match and a bounty on every Stream Team's head.
TwitchCon Apex Legends Participants
Five teams of 3 streamers, known as Stream Teams, will take to the stage to prove themselves, with 45 Twitch Partners or Affiliates bringing the total up to 60 for each match. From the initial information released around the tournament, it appears that the 45 Twitch Partners will only be in the hot seat for one match, before rotating out for another set of 45 players. The Stream Teams, however, will persist throughout.
The Stream Teams qualified in the "Apex Legends – Road to TwitchCon" tournament that was run earlier this year across both NA and EU regions, resulting in the top 2 teams in each region securing their place.
From NA, we saw NRG's roster show their dominance to secure the top spot, with Sentinels close behind them. The NRG powerhouse that is Ace, dizzy, and Mohr will, in our minds, be the obvious favourites to come out on top at the Twitch Rivals tournament and take home the lions share of the $500,000 prize pool.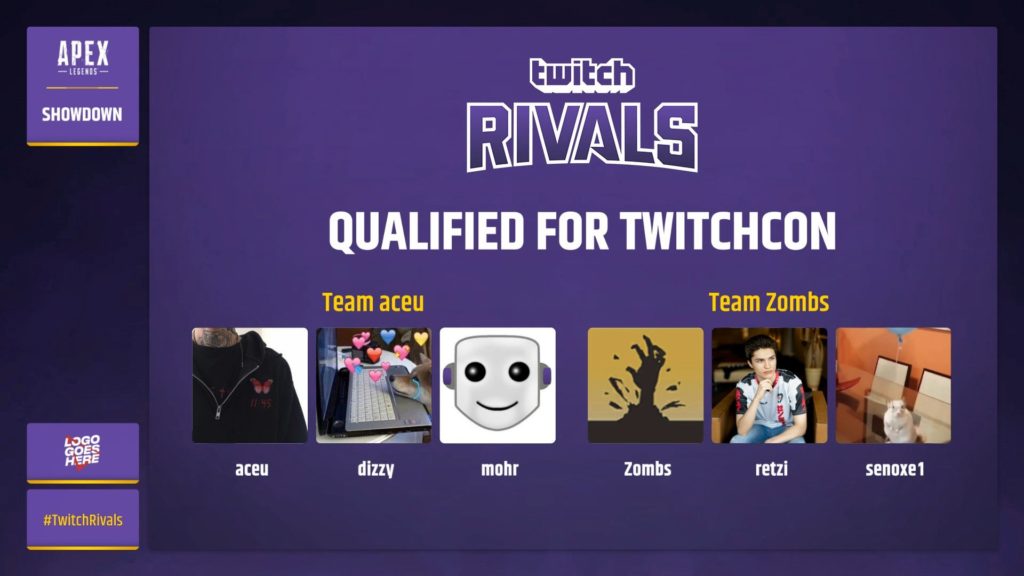 The EU region saw Na'Vi's Apex Legends roster qualify top of the group, along with a currently unsigned roster operating under the name SUCCUBUS. Both teams performed exceptionally during the qualifiers and with the talent coming in from both regions, this is shaping up to be an event no Apex fan will want to miss.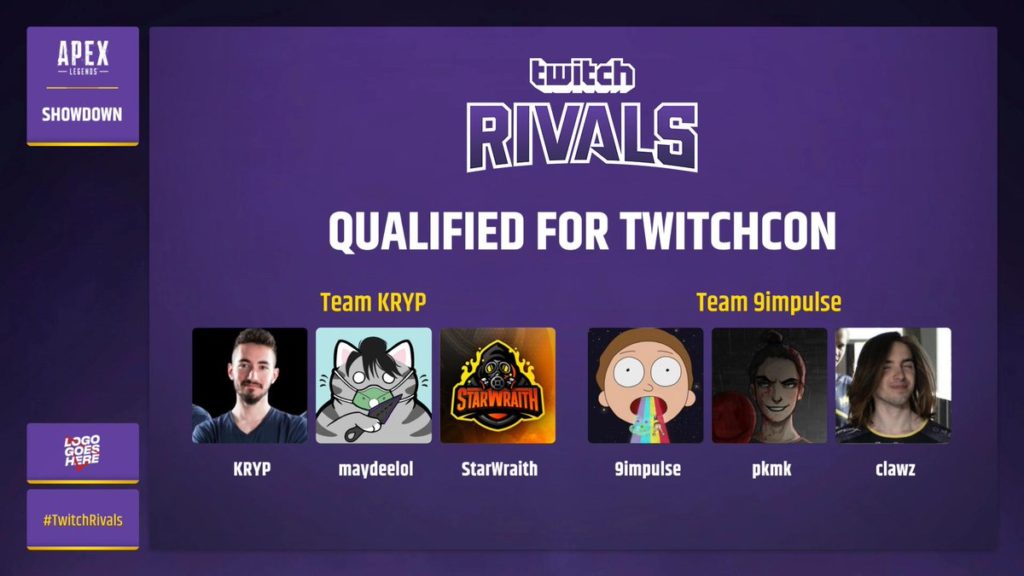 If you'd like to watch any of the previous qualifiers, you can find the NA qualifier and EU qualifier videos over on Twitch.
The Twitch Partners and Affiliates that will be competing alongside the Stream Teams are yet undecided, but we hope to see some of the best Battle Royale title streamers making an appearance throughout the event, giving the teams a run for their money. With the obvious advantage of on-stage experience and extensive combined team playtime the Stream Teams will have the obvious advantage, but anything can happen.
How to bet on Twitch Rivals
Currently there are no markets lined up for the event whilst the streamer teams are being finalised. Once markets have been released we will be updating this post to bring you the best betting operators and bonuses.
Until then, we've included some of our favourite betting sites that support Apex Legends, so make sure you set up an account!
| Betting site | Rating | Esports | Available In Unknown language |
| --- | --- | --- | --- |
| | | | Play Now! |
| | | | Play Now! |
How to watch Twitch Rivals Apex Legends Tournament
The Apex Legends tournament will be broadcast from the official Twitch Rivals channel, streamed live from the Twitch Rivals Arena. The tournament will start on Sunday 29th of September at 09:00am CEST.
There will be a central broadcast for this competition on the official Twitch Rivals channel, which we will include below, along with the streams of many of the competitors who will be streaming on their own channels as well. Expect to see plenty of action on the Apex Legends Twitch page!
We've included the official Twitch Rivals channel below, so check back when the events running to watch it live!