Unikrn is arguably one of the most forward thinking bookmakers in the industry and their latest announcement has further reinforced this direction. The platform is already home to Unikoin Gold, a cryptocurrency for wagering (among other things) on the Unikrn platform, as well as streamer betting and virtual esports betting, all of which have challenged our understanding of how future bookmakers may operate. However, this week the platform has gone another step further following an announcement on Monday which detailed a partnership between Bittrex and Unikrn to enable deposits in Bitcoin, Ethereum, TRON and other cryptocurrencies. The full list of cryptocurrencies now accepted at Unikrn are:
Unikoin Gold (UKG)
Bitcoin (BTC)
Dogecoin (DOGE)
Ethereum (ETH)
Tron (TRX)
Ethereum Classic (ETC)
Litecoin (LTC)
Bitcoin Cash (BCH)
Monero (XMR)
DASH
This new partnership will automatically convert cryptocurrency deposits to Unikoin Gold (UKG), allowing players to deposit in their chosen coin without the need to purchase UKG at an exchange beforehand. This announcement opens up esports betting to a swathe of players and gambling enthusiasts who had previously struggled to find a top tier esport bookie to bet with crypto. The partnership with the Bittrex exchange is also significant; nearly $40 million of trading volume passes through the Bittrex books every 24 hours and their platform has been established since 2014. This level of liquidity and and high degree of trust and reputation will be seen as a major boon to those wishing to deposit and bet on esports with crypto.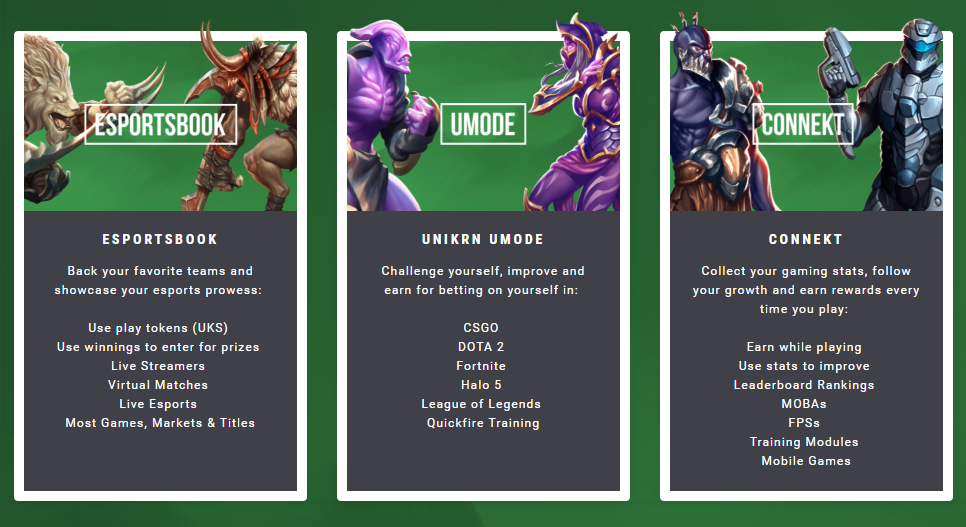 Esports betting and cryptocurrency use have long been tied closely together; dozens of platforms already allow for deposits in BTC, ETH and others, however Unikrn's implementation appears to have a bigger target in its sights. The platform already allows for casino play, shopping and Unikrn UMode (allowing players to bet on themselves) with Unikoin Gold, and the enabling of a broader range of cryptocurrencies will go far to expand the space and legitimize the link between esports and crypto. Unirkn seems set on building out a broader cryptocurrency ecosystem around gaming and entertainment, and this latest development is no doubt not their last.