It's rare that providers interested in esports expand beyond sportbook offerings and venture into esports-focussed casino games. Most esports fans are players of the games they watch, so betting on professional matches makes sense. Leading esports betting provider Betway have taken this one step further. Taking advantage of their partnership with Swedish esports team Ninja's in Pyjamas, they have created a CS:GO & traditional casino slots cross-over.
Those unfamiliar with slots, they are HTML, sometimes Flash, powered games that recreate the traditional one-armed bandits or more-high tech machines you'll likely see in the corner of your local pub. Each turn essentially consists of each chamber spinning round in an attempt to create one-or-more lines of similar icons. It can get more complex than this, but for an introduction it covers the basics.
NIP™ is a five reel, nine payline and forty-five coin slot machine. It includes graphics and icons from the hit esports title Counter-Strike: Global Offensive, making reference to bomb sites, different weapon classes and the Ninja's in Pyjamas logo (the wildcard / multiplier!). These include: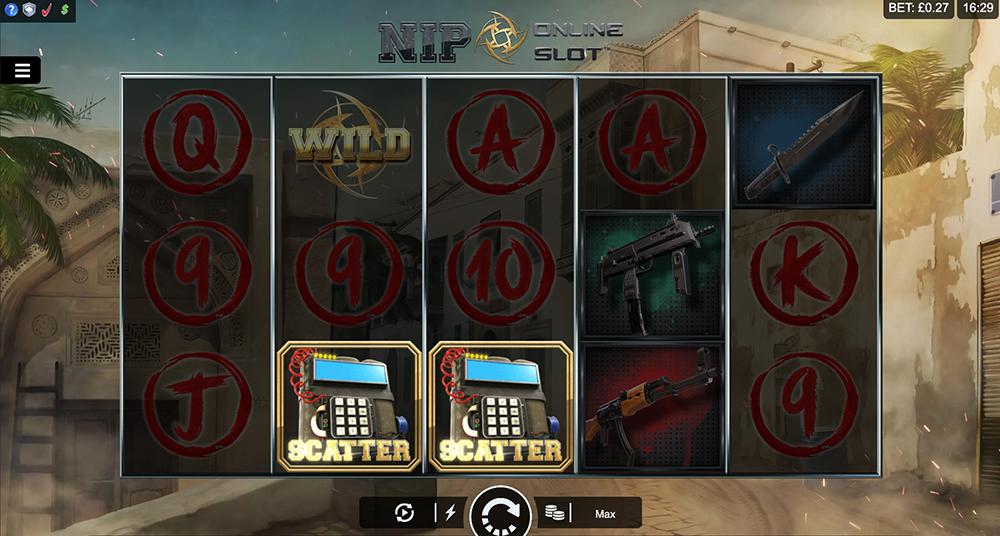 The appearance is actually quite nice, and the gameplay is straight forward. You don't have nudges or mini-games congesting the experience, but instead just straight action across 9 paylines. Each payline gives you a chance to match symbols across different angled axis. It's definitely recognisable as CS:GO from the get-go, with familiar imagery of guns and bomb-kits scattered across the reels.
The NiP logo also makes an appearance. This symbol doubles the payout of any combination it completes as a wild symbol, meaning that it can be the difference between a line not paying out and taking home a sizeable taking!
Betway states that the game has an RTP of 96.10%. This stands for Return to Player (RTP) and is the theoretical statistical percentage of total money bet by players in a specific game, that is paid out as winnings over time. This isn't too bad, but if you'd like to learn more about RTP then check out AskGamblers post that goes into more detail.
The Betway and NiP partnership has been fruitful throughout even after a rocky patch in 2017. Betway have managed their esports partnerships extremely well, generating mass amounts of video and social content for the community and this is just another string to their bow.
As part of the six-figure deal, eSports' leading bookmaker will receive on-shirt branding, content usage rights, onsite branding at the NiP gaming house and full player access.
If you want to give Betway's NiP Slots a try, then head on over to Betway casino and have a spin!