The League of Legends Mid-Season Invitational (MSI) will kick off on May 3. The top teams from 14 regions will be competing at locations across Europe to be crowned the winner of League of Legends second largest tournament. This year, players will not only be competing for trophies and accolades, but also for a prize pool that at least numbers 1 million dollars (prize pool subject to change based on in-game sales). But with so much at stake for the players, what's at stake for you, the bettor? With such a massive tournament comes a huge chance to win big. Here's what to consider when betting on this years 2018 MSI tournament:
Who Will Be Competing This Year?
Here are the 14 teams and their respective regions competing at the 2018 MSI Tournament:
• CBLOL's KaBum! e-Sports – Brazil (BR)
• CLS's Kaos Latin Gamers – Latin America South (LAS)
• EU LCS's Fnatic – Europe (EU)
• GPL's Ascension Gaming – Thailand, Southeast Asia Region (SEA)
• LCK's Kingzone DragonX – Korea (KR)
• LCL's Gambit Esports – Commonwealth of Independent States (CIS)
• LJL's PENTAGRAM – Japan (JPN)
• LLN's Rainbow7 – Latin America North (LAN)
• LMS's Flash Wolves – Taiwan, Hong Kong, and Macau (LMS)
• LPL's – Royal Never Giving Up – China (CH)
• NA LCS's Team Liquid – North America (NA)
• OPL's Dire Wolves – Oceania (OCE)
• TCL's BAUSuperMassive – Turkey (TUR)
• VCS's EVOS Esports – Vietnam (VN)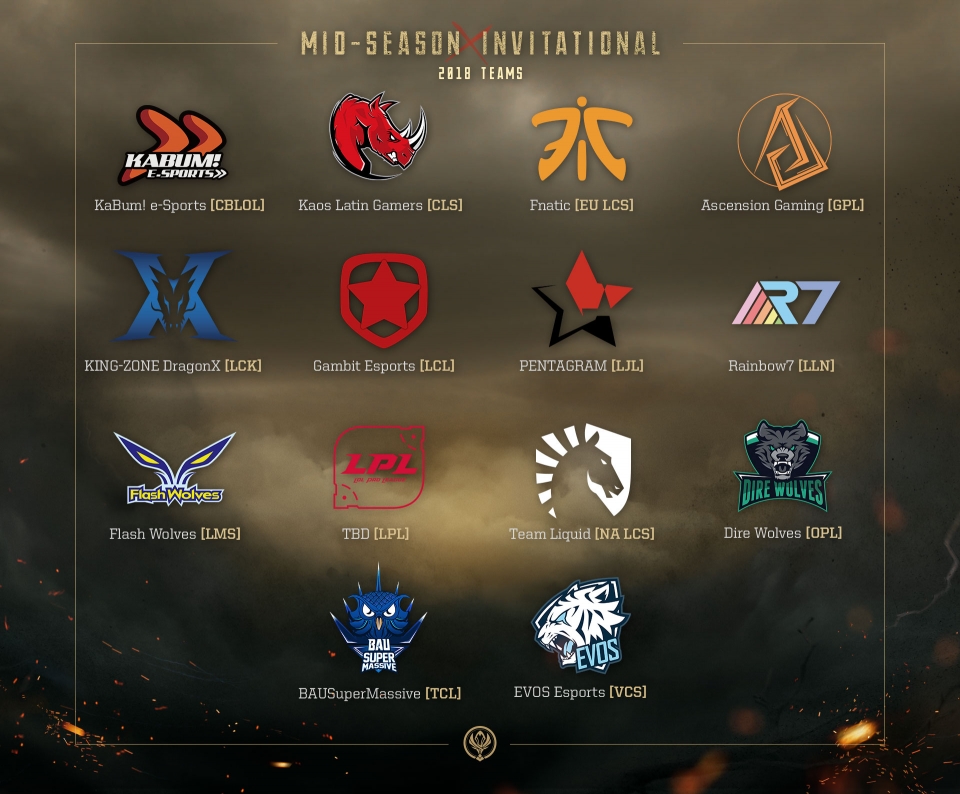 Note: The image does not include Royal Never Give Up
[Source: https://www.lolesports.com/en_US/articles/2018-mid-season-invitational-event-overview]
What Is the Format of the Tournament?
There are three different sections of the tournament: Play-In Stage, Group Stage, and the Knockout Stage.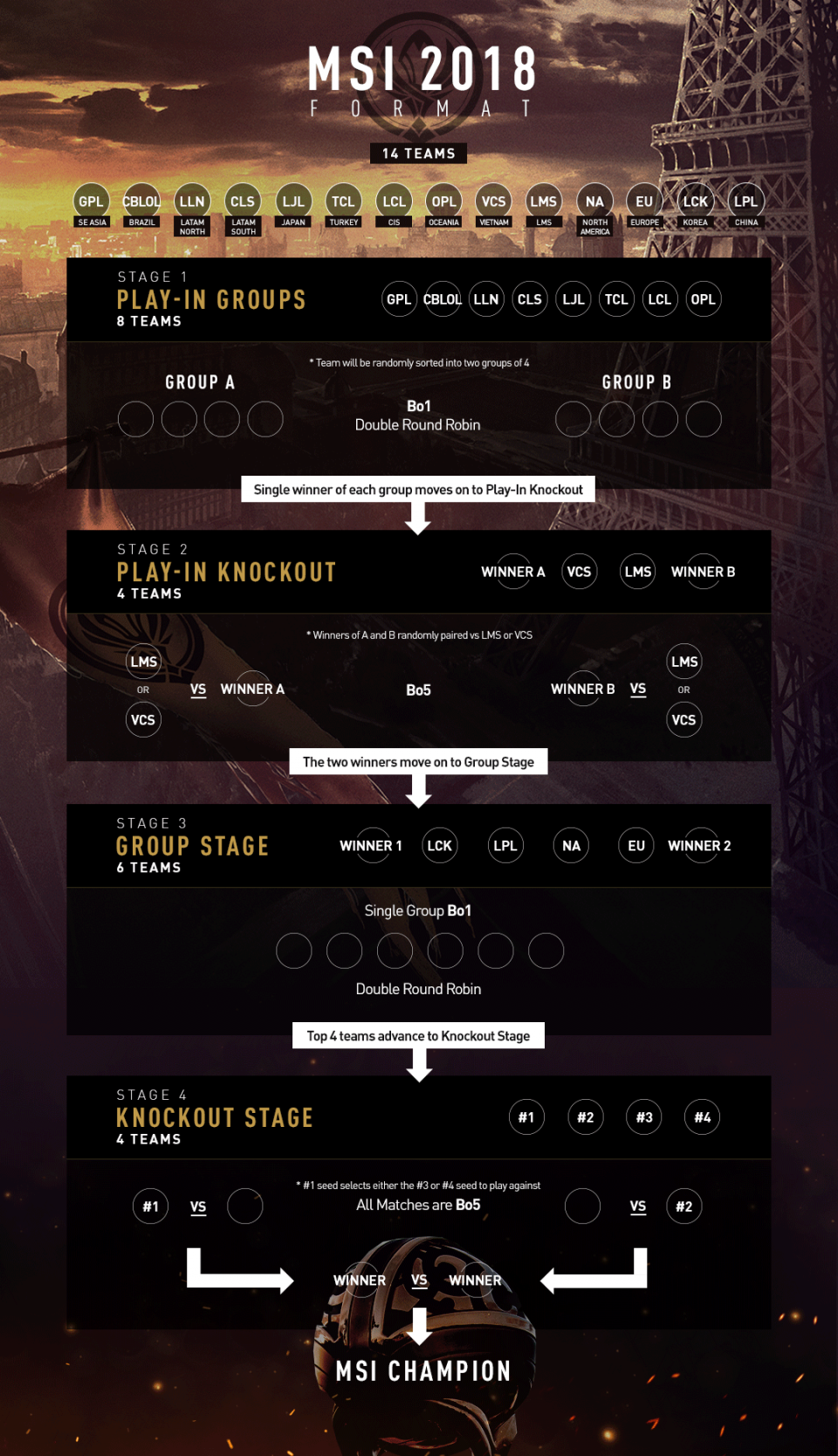 Play-In Stage:
All teams (except for the winners of the NA, EU, CH, KR regions) will participate in the Play-In Stage. 8/10 teams will compete in Round 1 while the winners of the VCS and LMS League (EVOS and LMS respectively) will automatically be in Round 2. There will be two groups (Group A and Group B) and teams will be randomly put into either group. The winners of Group A and Group B will advance to the Group Stage.
Group Stage:
The two winners of the Play-In Stage and the winners of the NA, EU, CH, and KR regions will compete in the group stage. These 6 teams will compete in Best of 1 round robin tournament style. The round robin format will guarantee that each team plays every other team twice. 4/6 teams will advance to the Knockout Stage.
Knockout Stage:
The four remaining teams will compete in a Best of 5 (team must win 3 games to win the series) format in this final section of the tournament. The 1st ranked team from the Group Stage will have the ability to select either the 3rd or 4th ranked team from the Group Stage for their first match. The winners of these Best of 5 matches will play each other in the finals to determine an ultimate winner.
Predictions:
Foreword: All advice and statements made in this section are subjective and my own opinion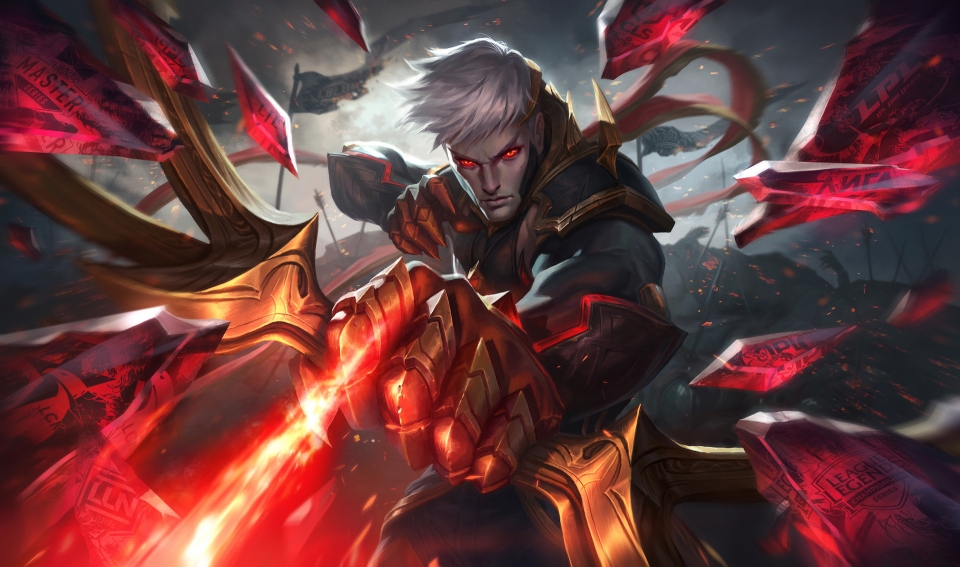 With such a unique tournament style, it is hard to be confident in a clear favorite to win the tournament. These predictions are subject to change at any point during the tournament. Here's what can be determined prior to the tournament:
With the winners of the NA, EU, CH, and KR regions automatically making it to the Group Stages (meaning they skip the Play-In Stage) this gives them a higher chance of winning than any of the teams in the Play-In Stage. For this reason, we will only be looking at these teams to determine a favorite for the tournament. However, it is important to note that it is completely possible for any of the teams in the Play-In Stage to win the entire tournament (for example: merely look at the Taipei Assassins in Season 2 Worlds).
Team Liquid – NA LCS
After finally breaking the fourth place curse and winning their first ever NA LCS title, Team Liquid is an incredibly "hot" team right now. Team Liquid has proven to play incredibly well against other strong teams as seen by their 4-0 record at the end of Week 2 of the LCS.
But, they have also proven to struggle against teams that they should outmatch (see their matches vs. Flyquest and Golden Guardians in Week 3). Due to inconsistency in the regular season (despite having a very strong showing in the LCS playoffs), they aren't guaranteed to fair well against the other teams in the group stage. While Doublelift (Team Liquid's ADC) is a tried and true veteran and has extensive experience playing against teams from other regions and is certainly one of the team's greatest strengths, his compatibility with his bot lane partner, Olleh, is not. I believe that their success at MSI will be determined heavily by how well their bot lane can perform.
Final Prediction:
• Finish Third in the Group Stage
• Finish Third in the Knockout Stage After Being Defeated By Royal Never Give Up
Fnatic – EU LCS
While Fnatic has the ability to perform incredibly well, they are the most inconsistent of the four teams listed here. Like Doublelift, Rekkles and Soaz are no strangers to the international stage either. At their last MSI tournament appearance, they had reached the semi-finals, bringing SK Telecom T1 to 5 matches in a best of 5 series.
In the 2018 split, Fnatic swept G2 Esports in the finals (3-0). Fnatic's lineup has proven to match up well against the best their region has to offer. Therefore, I see Fnatic having no problem in the Group Stage (whereas I cannot say the same for Team Liquid). However, I believe the EU LCS to be the weakest of the four regions that are guaranteed a spot in the Group Stage. Seeing how they stack-up against teams from other regions in the Group Stage will give us a good idea how capable they will be to advance in this tournament. But because we don't know as of now, this makes them a wildcard team.
It is hard to be confident in Fnatic advancing past Round 1 of the Knockout Stage. The potential to win this tournament is certainly there, the consistency is not, however. That being said, if their roster performs well in the Group Stage, I can see Fnatic becoming the dark horse contender this year at MSI.
Final Prediction:
• Finish Fourth in the Group Stage
• Finish Fourth in the Knockout Stage After Being Defeated By Kingzone DragonX
Royal Never Give Up – CH LPL
Royal Never Give Up (RNG), the final team to qualify, will be making the second MSI appearance in their team's history in 2018. Having previously been second place in the League of Legends World Championship (Season 3), this team is one of the greatest in League of Legends history. But where do their achievements rank them in these predictions?
In the LPL finals, RNG defeated EDward Gaming (3-1) to qualify for the 2018 MSI tournament. Despite having been defeated in the first game in a mere 29 minutes, RNG rallied to come back and win the next three games. RNG's strengths are certainly based on their player's individual performance. Uzi, the most popular ADC in China's LPL, has consistently played at a level that other ADCs have not been able to match. He, in my own opinion, is the best ADC in this tournament.
The player with the most impact in the LPL finals, however, was RNG's jungler, Mlxg. Facing against EDward Gaming's veteran jungler Clearlove, Mlxg put on an absolutely fantastic performance, outplaying Clearlove in front of a record 95 million peak viewer count during the finals. Mlxg's play resulted in early game leads and mid game team fight wins to propel RNG to their eventual championship crowning.
But their strength can also their weakness. If their players don't accumulate gold and items to outmatch their opponents in-game, their game plan falls apart. Based on what I've seen from RNG this season, early game leads translates into success as much as early game deficits results in losses. If an opponent's gameplan can neutralize Mlxg's ability to cause early game leads, RNG can be defeated through macro-objective play and rotation. Considering that one of their opponents is the top Korean team, a region that has shown time and time again to be the innovators of macro strategy meta, it is difficult to be certain that their skill alone can beat what will most likely be a more cohesive and prepared team. Yet, if there's anything to take away from this season's meta, it's that this is far from being impossible; just unlikely.
Final Prediction:
• Finish Second in the Group Stage
• Finish Second in the Knockout Stage After Being Defeated By Kingzone DragonX In The Championship Match
Kingzone DragonX- KR LCK
From veterans such as Pray, Peanut, Gorilla, and Khan to new and exceptional talent such as Cuzz, Kingzone's League of Legends roster is about as good as they come. You would only need to look at their 16-2 season (7 of those wins being a part of an undefeated streak) to realize why they were a heavy favorite for the 2018 Spring Split Playoffs and why they should be for this tournament.
Consistency is the key factor on why I believe they are the favorite for this tournament. More so than an any other team mentioned, they have proven time and time again to have done the research on their opponents and outplay them in each position. Add to that they arguably have the best mid-jungle combo in the game and the outcome of this tournament becomes a little bit more predictable.
But as always, that is never a guarantee. Their elimination in the Quarterfinals of the 2017 World Championship and their loss to BBQ Oliviers this season is proof enough that they are not invincible. Additionally, they will be against 5 other teams in the Group Stage, two of which are currently undetermined but all of them being from different regions. Given that the tournament takes place in a relatively short period of time, Kingzone DragonX may not have the time needed to research each of their opponents to that the degree they have been accustomed to in their own LCK. This is especially important when considering that each region has their own unique style of play. Unpredictability could be the "chink in the armor" to defeat Kingzone DragonX.
That being said, their capability and skill as a team could make their lack of complete preparedness a non-factor. I believe that they will finish first in the Group Stages and therefore will be able to pick who they want to face in Round 1 of the Knockout Stage. Considering that they will play each of the other 5 teams in the Group Stage twice, Kingzone will have to choose whether they want to be adaptable to their opponents style of play or rely on their style of play in order to win.
Final Prediction:
• Finish First in Group Stage
• Winner of the 2018 League of Legends Mid-Season Invitational
Where and How To Bet For The MSI 2018 Tournament:
Luckily for the bettor, you aren't forced to place a bet prior to the start of the tournament. As the bettor, you can choose who you want to bet on and when you want to place that bet. Odds and favorites are subject to change at any point during the tournament based on the results so pick accordingly! Here at Sickodds.com, our site will help you find the best websites to bet on esports with. With the wide range of websites we have tailor picked, you are sure to find one to your liking.