The end of the decade is upon us, but before 2019 ends, a number of key tournaments still lay before the CS:GO community. Top-ranked teams will have to prove why they deserve to be where they are as they as well as battle for generous prize purses and bragging rights. Some of the biggest and baddest will have to grind out wins against one another, as they travel the world fending off fatigue and bad blood. Below are some of the events that SickOdds won't be missing.
ECS Season 8 Finals
November 28th – December 1st | Arlington, Texas U.S.A
Teams for this tournament were determined after a total of ten weekly cups, split evenly between North America and Europe. European representatives include Astralis, NiP, AVANGAR, and Fnatic, where as Team Liquid, Sharks, Evil Geniuses and MIBR will be strong representative for North America.
Prize pool
The tournament will have a total prize pool of $500,000, distributed among the teams as follows:
1st – $225,000
2nd – $100,000
3rd & 4th –  $50,000
5th & 6th –  $25,000
7th & 8th –  $12,500
Teams Competing
Groups were determined by a team selection method and this process allows teams to pick who will go into the opposing group. Think of it as a schoolyard basketball game, except that the teams are choosing other players who will not be on their team at this time. AVANGAR and Sharks were the first teams to choose for each group as they were the first to qualify.
Accordingly, the two groups will be as follows:
| | |
| --- | --- |
| Group A  | Group B  |
| Evil Geniuses #2 | Astralis #1 |
| Liquid #4 | Fnatic # 3 |
| NiP #8 | MIBR #15 |
| AVANGAR #9 | Sharks #28 |

Tournament Format
The ECS Season 8 Finals will utilize a double-elimination GSL format. Opening matches will be best-of-one while all following matches will be determined by best-of-three. The top two teams from each group will advance to The Playoffs which will see top competitors face each other in best-of-three, single-elimination brackets. The team that bests them all will be reign ECS Season 8 Champions.
This tournament is expected to draw a lot of eyes as six of the attending teams are top 10 ranked. Without a doubt, the best CS:GO players in the world will be going head-to-head, giving their blood, sweat, and tears to win this tournament. The roster is absolutely stacked with talent and is promising some of the best gameplay we may see for the rest of the decade. Every team on the roster are absolute killers and seasoned veterans of this year's tournament circuits. Fires will immediately erupt in the group stage as EG takes on Berlin Major grand finalists AVANGAR, whilst Team Liquid battle against NiP and there may even be room for a massive upset if Astralis underestimates the Brazilians on Team Shark.
Keep in mind, the CS:GO Asia Championships will have just wrapped just a week prior and so demanding travel conditions may lead teams venturing from Asia to find themselves at a disadvantage due to fatigue. Among the contenders slated to play in both the CS:GO Asia Championships and ECS Finals are AVANGAR, EG, and MIBR . The event begins on November 28th in Arlington, Texas.
Tournament Schedule
The schedule, beginning with the group stage, is as follows below:
Thursday, November 28
09:00 Evil Geniuses vs. AVANGAR (BO1)
10:30 Liquid vs. NiP (BO1)
12:00 Astralis vs. Sharks (BO1)
13:30 Fnatic vs. MIBR (BO1)
15:00 Group A Winners' match (BO3)
18:00 Group B Winners' match (BO3)
Friday, November 29
09:00 Group A Elimination match (BO3)
12:00 Group B Elimination match (BO3)
15:00 Group A Decider match (BO3)
18:00 Group B Decider match (BO3)
Saturday, November 30
12:00 Semi-Final #1 (BO3)
15:00 Semi-Final #2 (BO3)
Sunday, December 1
12:00 Showmatch
15:00 Grand Final (BO3)
ESL Pro League Season 10: Finals
December 3 – 8 | Odense, Denmark 
The ESL Pro League Season 10 Finals will round out the year as one of the most important remaining on the 2019 calendar. With a notch towards the Intel Grand Slam and its lucrative $1,000,000 cash bonus alongside ESL's premier tournament series, we've got the feeling teams will come out of the gates swinging. Competitors from all over the world will face off in Denmark as months of qualifiers wrap and teams settle into the 16 available slots. Eight teams from Europe, six teams from the Americas, one team from Asia, and one Oceania team will all fight for the title of the ESL Pro League Season 10 champions.
Prize pool
The tournament has a total prize purse of $600,000 with the payout as follows.
1st – $250,000
2nd – $80,000
3rd & 4th – $40,000
5th & 6th – $20,000
7th & 8th – $17,000
9th-12th – $15,000
13th-16th – $14,000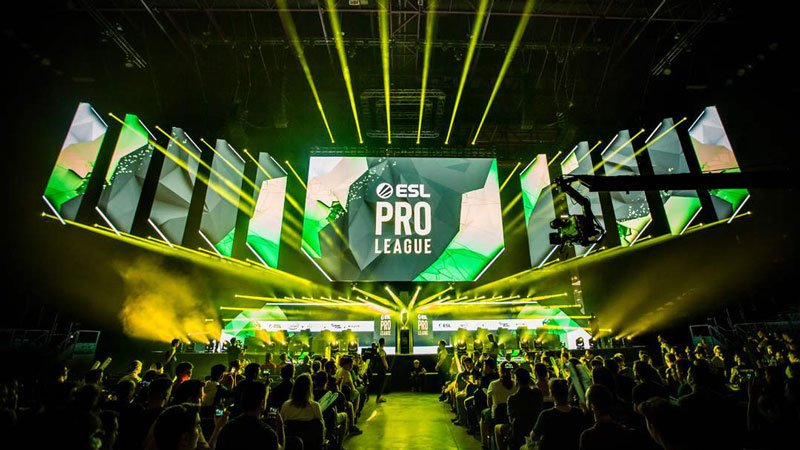 Tournament Format
Two groups of eight teams will follow the double-elimination (GSL) format. The groups will be seeded based on regular-season placements. Initial matches will be best-of-one while all of the following matches will be best-of-three. The top three teams from each group will then advance to the playoffs and the format is as follows:
Group stage winners will automatically advance to the Semi-Finals.
Second place teams will advance to the Quarter-Finals as high seeds and third place as low seeds.
The Playoffs will follow a single-elimination bracket. The Quarter-Finals & Semi-Finals are best-of-three while the Grand Final is best-of-five.
Teams Competing
While the group stages have yet to be arranged, the list of confirmed attendees are as follows:
Europe
Americas
Oceania
Asia
Mousesports
Heroic
Astralis
Natus Vincere
G2 Esports
FaZe Clan
North
Fnatic
MIBR
Evil Geniuses
Team Liquid
Sharks Esports
ATK
100 Thieves
Grayhound Gaming
TYLOO
The official event schedule has not yet been released but ESL Pro League Season 10 Finals start on December 3rd and end on December 8th. In addition, there are a few more events coming up as 2019 comes to a close however this is one we are all very excited to hear more about. As the dates draw closer, more information will be released, but for now, we're keeping an eye on these December tournaments:
CS Summit 5
BLAST Pro Series Global Final
EPICENTER 2019
[sportbooks game="3″]