Reddit have known to be a vocal and passionate community, but can their collective CS:GO knowledge predict the Berlin Major winner?
Ahead of the Champions Stage Quarterfinals, starting on the 7th of September, Reddit has banded together to collate their favourites to win at each stage. In each bracket we've brought forward teams that have the highest vote percentage, though as we progress there are more team matchup variations than displayed; meaning that summations won't equal 100%.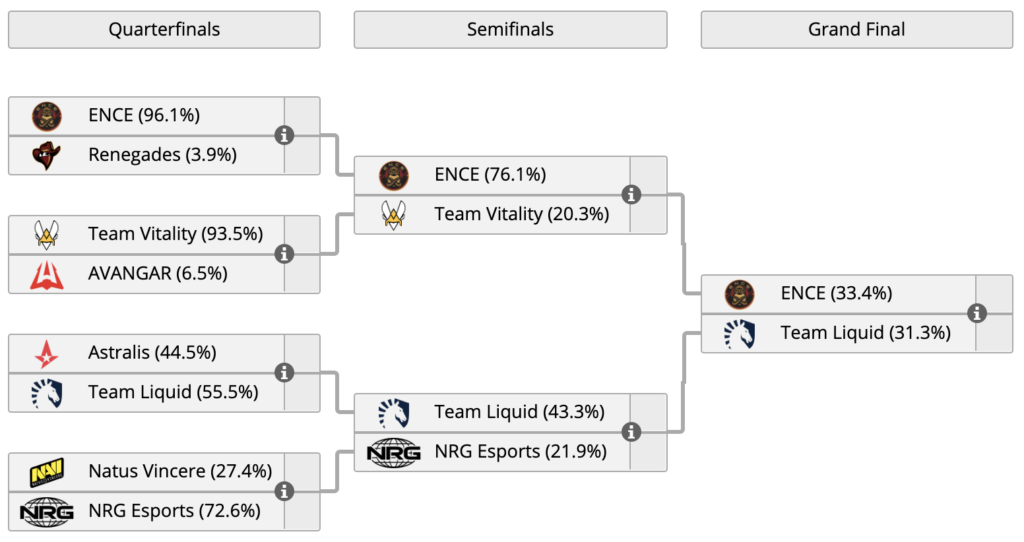 The bracket everyone has their eyes on comes straight in at the Quarterfinals, with Astralis taking on Team Liquid to retake their CS:GO throne. Astralis were the undisputed kings of Counter-Strike throughout 2018, and start of 2019, before tanking and being taken over by Team Liquid. Since that point they've dropped from rank #1 to #4, with the current HLTV standings featuring Team Liquid, ENCE and Team Vitality ahead of them.
Coming into the match Astralis (2.00) will be hungry to reclaim their spot, whilst Team Liquid (1.72) will have to prove their dominance. Individually, the Astralis team are still comprised of extremely talented players, but have failed to gel in recent months. If Device and dupreeh come into the match bringing their A-game then anything could happen. The draft phase will be extremely important and map decisions could make all the difference. If you're not tuning into this one, then maybe you're not a CS:GO fan.
As we move into the Semifinals round we will most likely see ENCE taking on Team Vitality. Both teams have been performing extremely well, ranking #2 and #3 respectively, but Reddit are majoritively siding with ENCE to take win.
In the Reddit predicted finals we are expected to see ENCE taking on Team Liquid, but with the expectation that underdog ENCE will take down the currently rank #1 Counter-Strike roster in the world. Ambitious for sure, but either way it would make for a mighty finals.
Want to help contribute to the Reddit hive-mind? Head over to the Google Form to take part.
Pro picks
But what do the Starladder elected pros think? Well, they may be closet Redditors themselves (with the exception of Spunj and Machine) as they are near unanimous in Renegades and AVANGAR taking an early shower.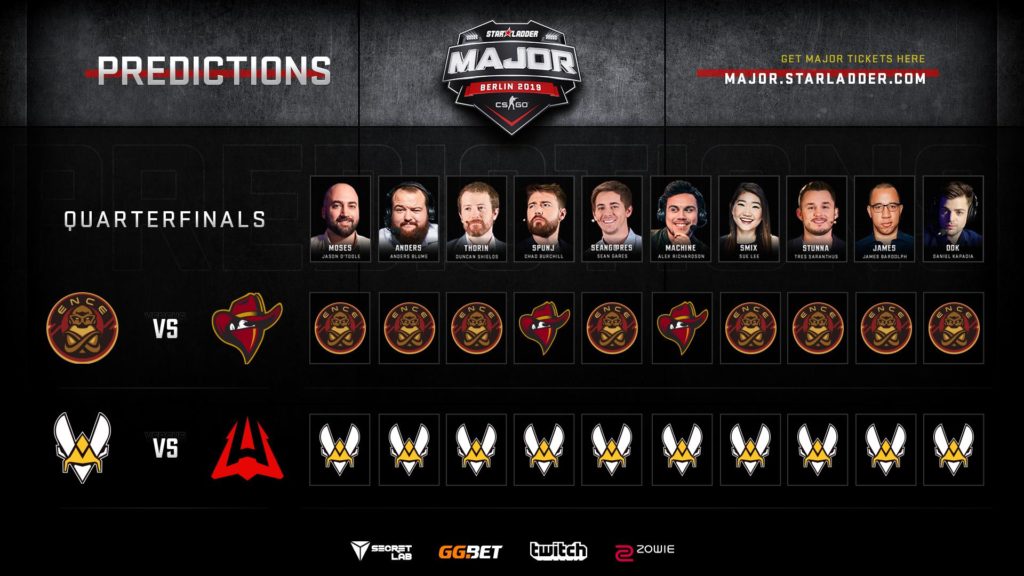 Where to bet on Berlin Major 2019
If you think Reddit are onto something, there are plenty of betting options available. Whether you're looking for tournament outrights, match winners or in-play betting then our recommended sportbooks will have you covered! Make sure to check out our reviews and find the best betting bonuses before backing your (or Reddit's) favourites!
[sportbooks limit="3″ /]