Streamer betting has been creeping into the esports gambling space over the past year, with established sportbooks like Unikrn investing heavily into the technology, and startups like BitFight coming (and unfortunately also disappearing).
Most esports and gaming fans use Twitch as their go-to platform for streaming events and gameplay. From large tournament organisers to part-time streamers, there are thousands of people streaming daily. The concept around streamer betting is to add a layer for fans watching their favourite streamers, allowing them to bet on quick turnaround, in-play events.
So if you're watching along with Shroud on Valorant, do you think he'll get a kill in the next pistol round? Or will the spike be planted in the coming round? Well if you have an inkling, with Streamer Betting you'll be able to bet in-play against other fans watching.
This aspect of betting against other fans is what is currently holding Streamer Betting back. In my eyes it's still waiting to hit a critical mass to guarantee that there are always enough people to sustain the betting.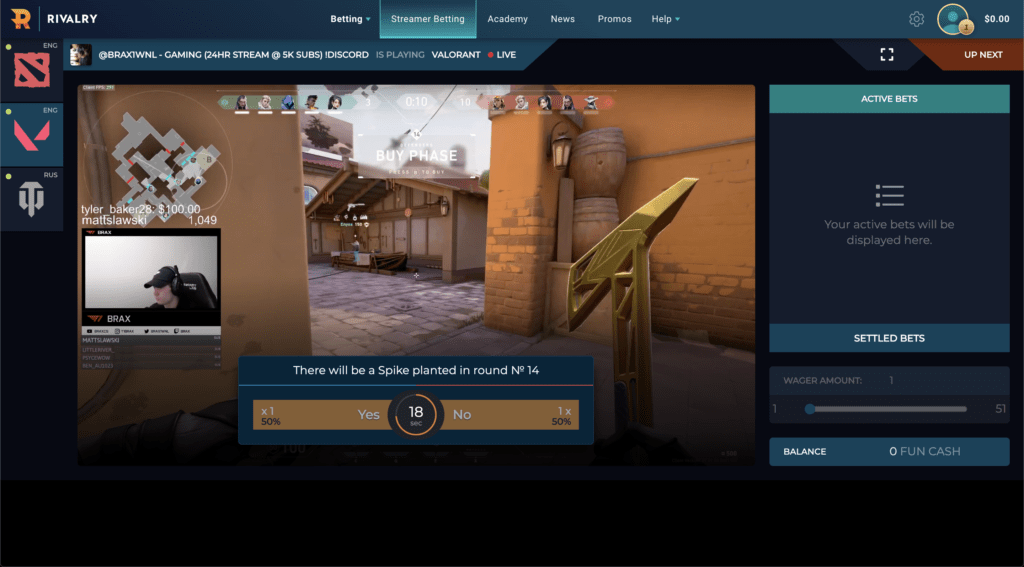 on Rivalry is only open to "FUN CASH", Hey Tom thanks for the write-up about Streamer Betting.
Streamer Betting functionality on Rivalry is only open to both registered and guest users. User's that haven't yet created an account can play with virtual "FUN CASH" to experience the concept. Fully verified Rivalry users can bet their fiat currencies and start winning!
Rivalry has been quick to develop interesting new features, including their Rivalry Academy and User Quests. As the platform continues to develop with new features, Rivalry is quick becoming a main esports betting contender.
Plus, they sponsor Fnatic, so in my eyes they're the best!