Long-running, American animated comedy, The Simpsons, is an admired, global treasure across various corners of the world. This favourite fictional sitcom has been raking in the viewing stats since its beginning, way back in 1989, and has since attracted a solid fan base that stretches across the waters and has a firm time-slot on our television schedules.
We all know the basic premise of The Simpson's story; working class family of 5, with an untypical comedy father figure, responsible mother, badly behaved big brother, overachieving sister and rather judgemental little baby. What's not to love?
Apparently not much, and in fact there is plenty to admire about The Simpsons as of late, particularly if you are an esports fan, as they very recently jumped on board and broke into the esports scene. By releasing their 17th episode of a whopping season 30, titled 'E My Sports' – a take on the comical Bart Simpson tagline "eat my shorts" – the episode was arguably designed as an attempt to break into the esports market by focussing its storyline on the ever-growing League of Legends title.
The focal point of this exciting episode essential is Homer, dad of the year, attempts to coach son, Bart, to become an esports sensation and equip him to be ready to compete in a national esports championship. However, as with traditional Simpsons humour, Homer takes his job too literally and has to rely on daughter Lisa to talk some sense into the pair before they run away with themselves.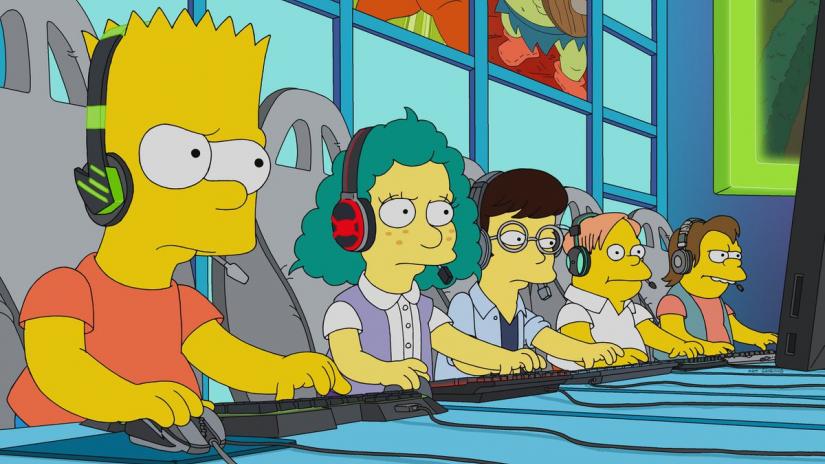 With various references and insights into the skills and preparation that true esport competitors have to endure, the episode is said to touch on all important information whilst leaving the fun and comical twist that is expected from lovers of this quirky American family.
All jokes aside, the essential message still remains, that even brands and companies such as FOX and those involving children's cartoons and simplified, sitcom-styled television, are still embarking into this new and exciting vision of an esports world. The Simpsons have previously mentioned various game titles briefly within their episodes, including another familiar battle-arena title, World of Warcraft, and action themed games such as Mortal Kombat, however this is their first leap into a fully-focused lengthy piece specifically for gaming advertisement. It's an exciting movement for both parties and the surge in popularity can only benefit both sides, with the episode being receiving well and many of fans still talking about it.
Let us hope this is not the only globally recognised show to trial an esports take and hope for many more twists about this fast-growing market.