Earlier this year, EA secured a major licensing partnership the UEFA Champions League for their title FIFA 19, after the European soccer league didn't renew the contract with Konami and their soccer title, PES. This will bring an end to the long running ten-year club partnership previously in place between UEFA and Konami, opening the doors for EA to expand their licensing and esports offering into the club level market.
Jonas Lygaard, senior director of brand & business development for Konami Digital Entertainment B.V, in an interview with UEFA, said: "The UEFA Champions League licence has given us a platform to create unique experiences and provide soccer fans from all over the world with an opportunity to enjoy this competition first-hand.

"This year, however, we will shift our focus into other areas. We will continue to explore alternative ways UEFA and Konami can continue to work together, as our relationship remains strong."
There is no word as of yet on how Konami will look to embrace this relationship.
Welcome to the eChampions League
It's no surprise that EA has fully embraced the licensing deal and is already giving it the esports treatment. Right off the back of the recent ePremier League announcement, the "eChampions League" will be another string to the FIFA Global Series bow on the lead up to the eWorld Cup 2019 that will be taking place next summer.
The eChampions League will first see eligible PS4 players competing in a Global Online Knockout tournaments between March 2-3, 2019, with the top ranked 64 players advancing to a live qualifying event towards the end of April. These live qualifiers will whittle down these top players to "The World's Elite", comprising of 8 champions battling it out at a live finals in Madrid to compete for a $100,000 prize for first place, as well as 850 Global Series Points to give them a solid foothold in reaching the eWorld Cup.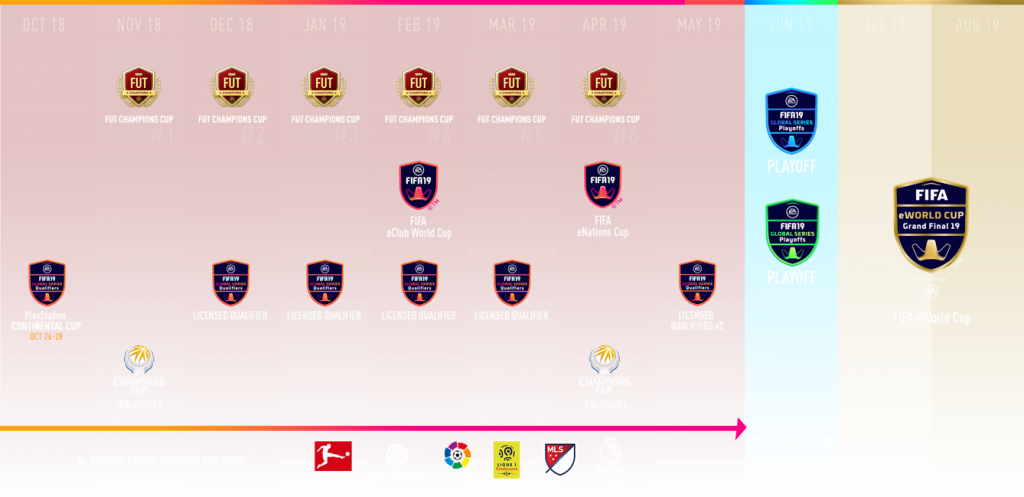 So, what's this got to do with the Champions League I hear you ask? Well, the 8 finalists competing in Madrid will be restricted to drafting and using players competing in the real-life Champions League, featuring some of the best soccer clubs from around the world including Real Madrid, Man City and Barcelona. With such high caliber teams competing in the UEFA Champions League there won't be a lack of high quality players to draft from.
Soccer teams lined up for eChampions League
At the time of writing there are currently 32 world class soccer teams competing in the group stages of the real-life Champions League. These games will continue towards the end of this month on November 27th, proceeding to whittle down available team and player pools available to for the final 8.

This is just the beginning
With first the Premiership and now the Champions League partnering with FIFA to create an esports platform, we see this as the beginning of bringing the beautiful game to a whole new platform and a brand new audience.
"Building an authentic UEFA Champions League competition was the next logical step in the continued EA Sports FIFA 19 Global Series expansion for both players and spectators," said Brent Koning, EA Sports FIFA competitive gaming commissioner. "The eChampions League creates a unique opportunity for the competitive FIFA superstars to represent their clubs in the pinnacle of club football."
"FIFA captivates tens of millions around the world, and our deep integration within the many in-game experiences gives us exciting opportunities to connect the UEFA Champions League to players," said Guy-Laurent Epstein, UEFA Marketing Director. "We see the eChampions League and competitive FIFA as an important step in connecting with existing and new fans of the UEFA Champions League."