If you're a fan of US reality show Shark Tank, then you'll be no stranger to investors Mark Cuban and Ashton Kutcher. But did you know that both of these Sharks have invested in esports betting platform, Unikrn? Well, they did! And their new platform, UMode, is equally as exciting.
UMode is a new opportunity for Unikrn punters to wager on themselves whilst playing top esports titles such as League of Legends, Fortnite and Dota 2. This is a player-vs-house betting platform, enabling users to make skill wagers on their own game play. This may sound slightly confusing at first as a concept, but as Rahul Sood, CEO of Unikrn, explains that it essentially "allows users of any skill level to place a bet and play a fair match using [a] games' built-in matchmaking rankings".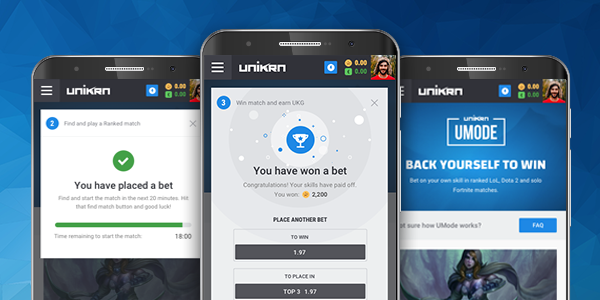 Players can place bets on their normal matchmaking games through UMode and through the magic of in-game APIs and data, UMode can validate bets, analyse your gameplay and process payments instantly, in
real-time
. Think you can beat your opponents in League of Legends? Prove it. Think this chicken dinner is yours to feast upon? Prove it.
"UMode gives players fair odds based on their play history and doesn't require all participants to place a bet," said Andrew Vouris, Unikrn Chief Operating Officer. "With a player-vs-house model, we cut out sharks, we cut out waiting, and we give players better odds. Unikrn wants to give a fair, exciting experience, so we've changed what's possible."
One of the best things about UMode is its availability in the United States of America, with it debuting in 41 of the 50 states of America. So if you're ready to back your own abilities, then make sure you get over to Unikrn and get signed up today!
Unikrn have also revealed that this is only the start of UMode, with the promise of a level-up system soon to be implemented, allowing the user to gain xp from betting on yourself and unlocking perks and prizes across the entire sport-book.
Have you tried UMode yet? Let us know how it's been going in the comments!