With Worlds 2019 out the way, NA now have a chance to redeem themselves and take home a trophy in the Tyler1 Championship Series. Hosted by popular streamer and League of Legends personality Tyler1, 16 teams of high level streamers and pro gamers will come together from the 16th of December to decide who takes home $50,000 and the highly coveted bragging rights.
If you missed the announcement video, check out this clip from Tyler1's Twitch Stream. It's going to be hype boys and girls!
Where can you bet on the TCS 2019
Bet365 are currently the only sportbook that have posted that they will be listing outright markets for the tournament. They have always shown great initiative to cover these smaller events, and although it will probably just have outrights as opposed to match winners and exotic markets, we're glad they're covering it.
Once Bet365 have posted their odds we'll update the article to bring you their offering. In the meantime, be sure to jump into our Discord where we'll be posting updates live!
UPDATE: Bet365 have now listed their TCS 2019 outrights and Each Way markets. All teams are covered, but Hipgrabbers are the favorites by quite a stretch, so it could be a good time to sneak some high returns on the underdogs!

Midnite have also listed their outrights, with extremely generous odds for outright favourites. If you're looking to back one of the better teams you'll get the biggest bang for your buck with them!
When signing up with Midnite, tell them that SickOdds sent you and you'll not only get instant access to their private platform, but also get £20 free to bet with!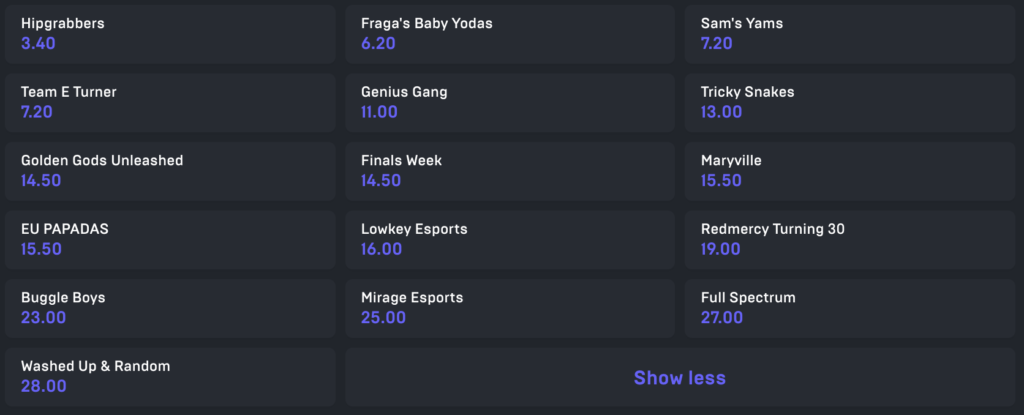 We expect to see other sportbooks begin listing their markets and outrights over the course of the day before the tournament officially starts streaming tomorrow, and we'll continue to update this article as they announce.
Who is competing in the Tyler1 Championship Series
The is no shortness in either Tyler1's height, nor the quality of the players taking part in the TCS. With the average lp of each team totalling over 700 there will be no shortage of impressive plays and quality action.
In contrast to show matches like the All Stars event, the teams aren't restricted with an elo requirement of certain players (usually resulting in Gold level streamer supports) and have formed their own teams. Players will be competing hard to win and not just playing up to the crowd, with a prizepool of $50,000 on the line.
There are 16 teams competing in the tournament, with the first streamed rounds commencing on the 12th of December and finals on the 21st. We've included a list of all the teams competing below, so be sure check out whose competing and back your favourite streamers!
TCS Group 1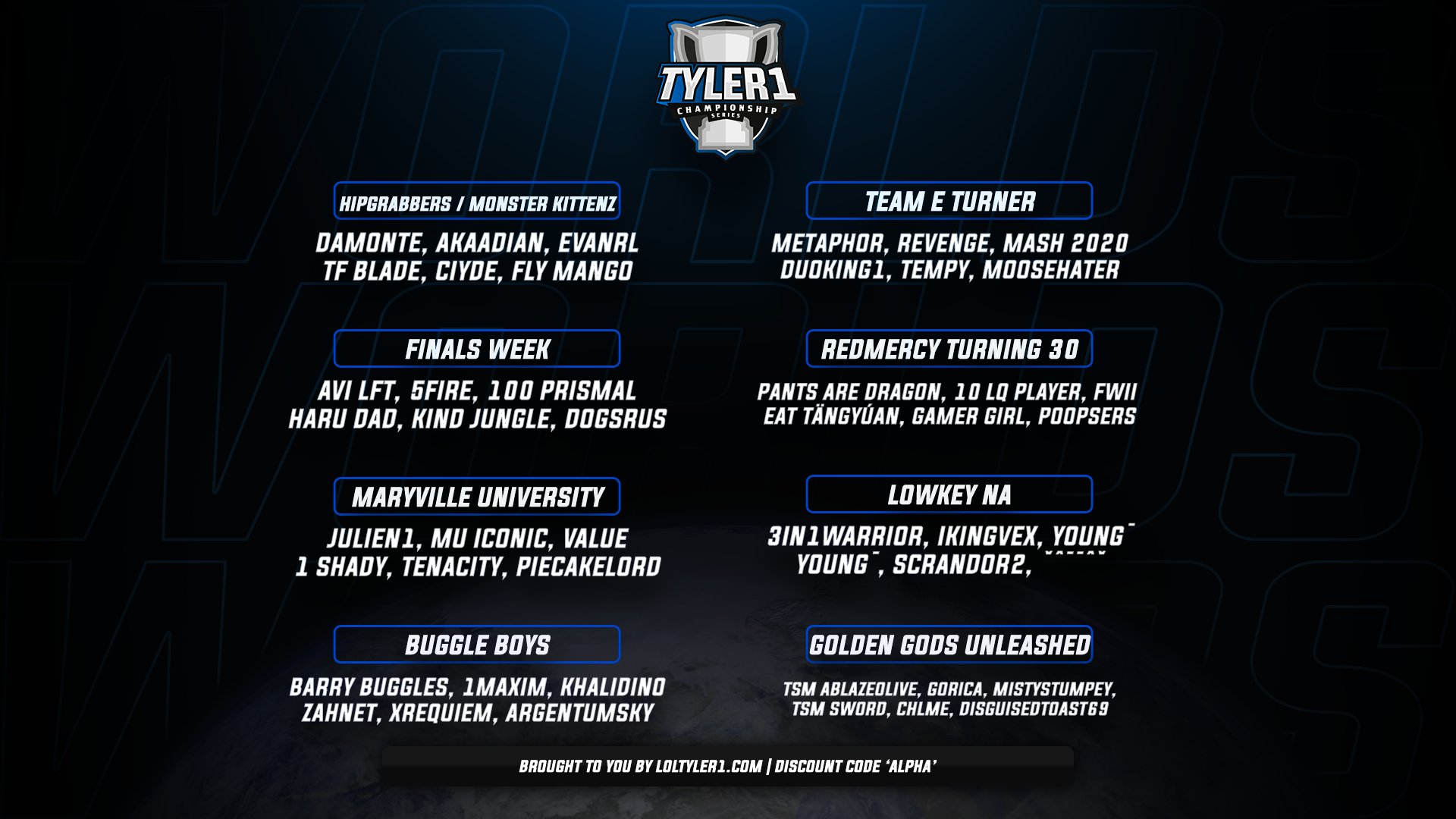 TCS Group 2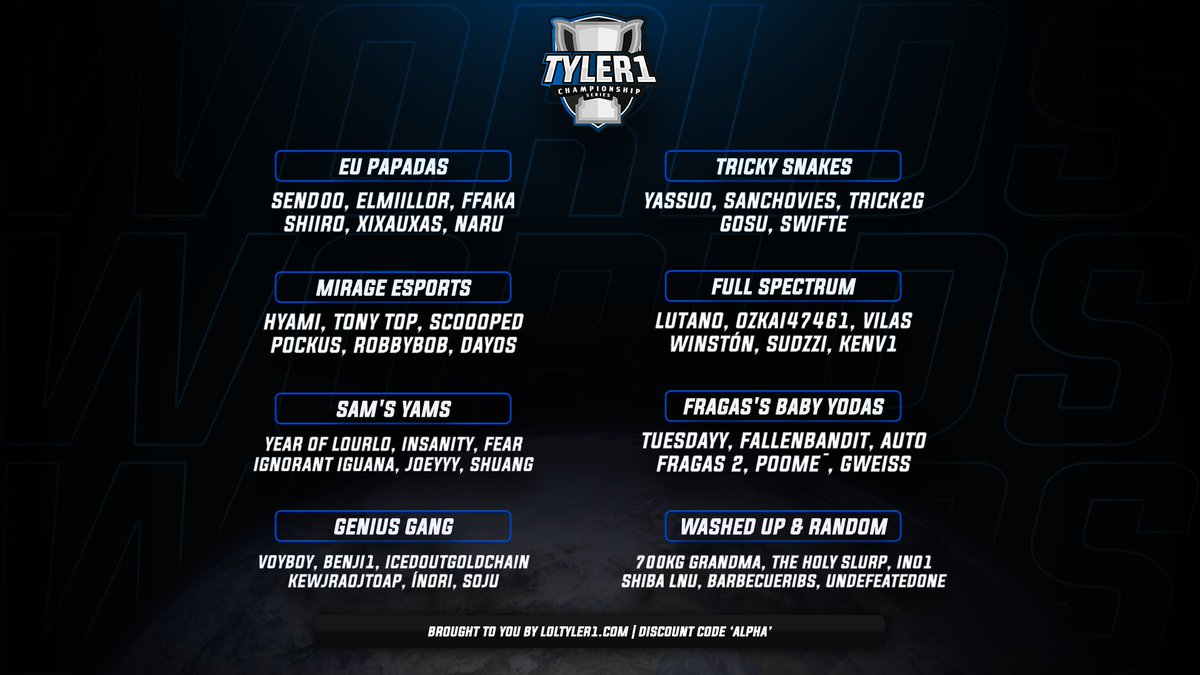 Our favorites to win TCS 2019
There is some incredible talent entering the tournament and there's no shortage of quality teams to choose from. A number have placed well in previous years individually, but you'll have to factor in the fact they're playing in teams. Notable personalities that are competing include Tanner "Damonte" Damonte, Hammoudi "Yassuo" Abdalrhman and Tim "Trick2g" Foley.
When betting on a team you'll need to weigh up individual skill, but also their pro stage and team experience. Some players have appeared on the Worlds stage, but will that help them in TCS? And don't forget that there will be plenty of target bans. We wouldn't be surprised if there was an exotic market for Yassuo actually being able to play Yasuo.
Our favourites for the tournament, with odds taken from Bet365, are:
Hipgrabbers (2.50), including TF Blade
Redmercy Turning 30 (29.00), including Pants are Dragon
Tricky Snakes (13.00), including Trick2g and Gosu
Unfortunately imaqtpie and the Stream Dream Team didn't get into the group stages this year, as they always placed in the finals and put on a great show.
How to watch TCS 2019
The entire Tyler1 Championship Series will be streamed live by Tyler1 himself on his own channels. He will likely be bringing on board additional talent this year, with Eefje "Sjokz" Depoortere rumoured to be making an appearance. Expect to see Tyler1 hyping up the stream audience with in-game commentary, Blood Rush commercials and plenty of premium, high quality production values.
Be sure to subscribe and follow both his YouTube and Twitch to make sure you don't miss a second of the action.
Who is Tyler1?
Tyler "Mother f*****g" 1 is a 6″5 professional League of Legends streamer, famously known for his aggressive play-style and originally his Draven one-trick gameplay.
Once known as the most Toxic Player in North America, he was banned in late April of 2016 and this was no April Fools. Unable to play the game until January 2018 he was banned completely from League of Legends for a total of 21 months, having all access from his IP, as well as any streamed accounts being banned within the first game.

When Tyler1 was unbanned, due to overwhelming community support and Riot reviews, he returned to Twitch, with over 325k fans tuning in to watch him win his first game. He's back, he's reformed (-ish), and we love him to bits.
If you want to find out a bit more about this League of Legends legend then we would recommend watching this biographical video created by theScore Esports.
[sportbooks id="2″]