Now that Worlds 2018 is out the way, the real League of Legends competition can begin. Premiering last year, the Tyler1 Championship Series is fast becoming a staple of the esports calendar, with some of the top talent from the North American region forming their own LCS-free rosters to compete for a staggering $10,000 prize for first place and, more importantly, the undying respect of the living legend that is, Tyler1.
The TCS 2018 tournament will see teams of 5 competing in live streamed Bo3 matches on Tyler1's Twitch channel towards the end of November to compete for 1 of 8 spots in the finals. The Finals, starting on December 1st, will also be a Bo3 knockout format and will be casted by the big (literally big, standing tall at 6″5) man himself; Tyler1.
The Tyler1 Championship Series 2018
The whole TCS series has a very tongue-in-cheek vibe and is always guaranteed to have more laughs per 20 minutes than Tyler1's CS. If last year is anything to go by, the finals will be a spectacle in itself; with adverts, in-depth team interviews and unique insights throughout. This is definitely a live event that you don't want to miss a single second of.
The tournament was announced via Tyler1's Twitter account yesterday with a message simply reading "TCS 2018", accompanied by an attached announcement video. If you can handle the hype, you can watch the minute-long video below:
https://www.youtube.com/watch?v=KK4UqGK91Bw
If you're interested in getting involved, live in the NA region, and think you can conquer the likes of MLGB Blade and Imaqtpie then applications are currently open via the Tyler1 Discord server. The only key exemption is that you can't currently be contracted to an LCS roster.
We're currently awaiting a confirmed list of teams that will be entered this year and also discussing promoting markets with our closer betting partners, so check back regularly to keep up to date!
Who will be presenting
The first round of matches in November, labelled as the Pools, will be casted by various, well-known content creators. These casters are rumoured to include Trick2G, Valkrin and Hashinshin, all of whom are popular Twitch personalities in themselves.
With the recent news that ex-Riot employee Sjokz has moved to become freelance talent, there is also speculation across Reddit threads that she may make an appearance on the TCS Finals stream to give it a more professional feel. From her recent dance routine on YouTube, we can only hope that the opening ceremony will include a K/DA duet between Sjokz and Tyler1.
Tyler1 will be casting the Finals stages himself. Armed with his trusty greenscreen, some college quality product promos and his trademark shouting style, there will be no expense spared in creating a Finals series even more memorable and enjoyable than last year.
We have unconfirmed reports that a total of at least $6.15 was spent in the production of last years finals and we could see that figure doubled, if not tripled this year.
How to watch TCS 2018
TCS 2018 will be streamed live on Tyler1's Twitch stream, bringing the best memes and banter from his subscribers in Twitch chat. The games will be streamed in the NA timezone, so bear that in mind when planning to tune in, as that could push it into the early hours if you're planning on watching in Europe.
Each game from the Finals stages will subsequently be featured on his YouTube channel after they have been played, so there's no excuse to miss a single second.
Last year's TCS
The Tyler1 Championship Series 2017 started whilst Tyler1 was banned from playing League of Legends by Riot, which would be an entire series of news posts in itself to cover the backstory. Since he couldn't play the popular esports title, he decided to take it upon himself to host the best LoL tournament ever made instead. Whether this could be seen as an act of passion or an act of defiance is debatable, but the end result was without doubt a spectacle to behold that surpassed, I'm sure, even Tyler1's expectations.
The TCS 2017 finals VoD has been watched over 1.6 million times on YouTube, and was live streamed with commentary to over 200k concurrent Twitch viewers. Alongside the action, the Twitch chat engaged heavily each game, generating more memes than grumpy cat on an especially grumpy day.
Last year we saw some of the most popular Twitch streamers, including Imaqtpie, Dyrus and Voyboy, form their own team "Stream Dream Team". MLGB Blade, currently ranked #1 in the NA region, also put a team together with his friends, destroying Stream Dream Team in the finals 2-1. We also saw incredible players and streamers like Pants are Dragon and Redmercy competing through the tournament, so there is no shortage of talent throughout.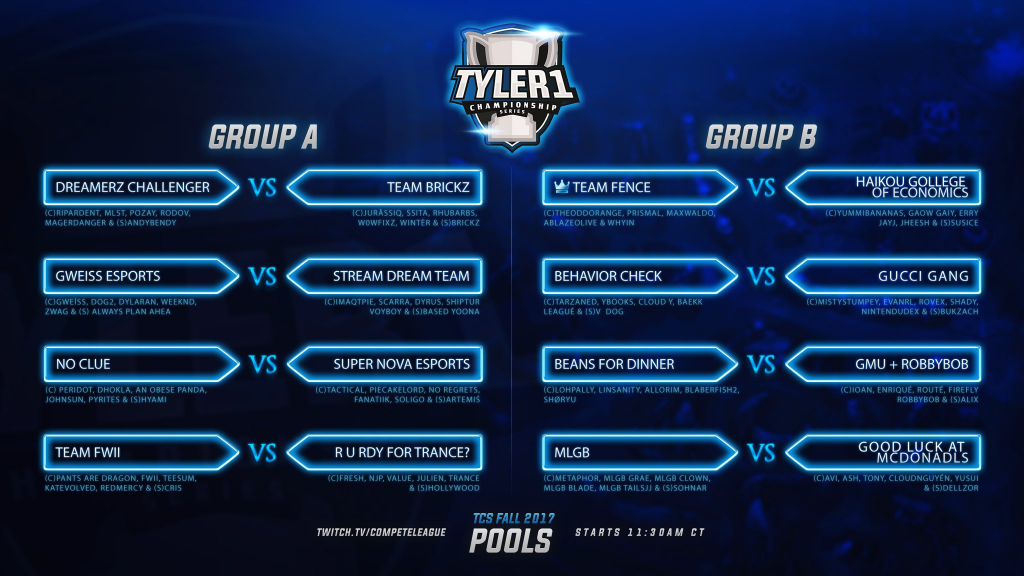 Who is Tyler1?
Tyler "Mother f*****g" 1 is a 6″5 professional League of Legends streamer, famously known for his aggressive play-style and originally his Draven one-trick gameplay. He peaked the NA leaderboards at #1 last season and #5 this season, showing his dominance over other ADCs on the Rift.
Once known as the most Toxic Player in North America, he was banned in late April of 2016 and this was no April Fools. Unable to play the game until January 2018 he was banned completely from League of Legends for a total of 21 months, having all access from his IP, as well as any streamed accounts being banned within the first game. Tyler1 experimented with other esports titles on Twitch, but it didn't take in the same way that his trademark Draven gameplay did.
When Tyler1 was unbanned, due to overwhelming community support and Riot reviews, he returned to Twitch, with over 325k fans tuning in to watch him win his first game. He's back, he's reformed (-ish), and we love him to bits.
If you want to find out a bit more about this League of Legends legend then we would recommend watching this biographical video created by theScore Esports.