Tomorrow marks the start of the 2018 PUBG Global Invitational in Berlin, pitting the top 20 PUBG esports teams from around the world against each other for their share of a $2,000,000 prize pool. The tournament will run over 4 days, from the 25th of July until the 29th, with the first 2 days being devoted to TPP (Third Person Perspective) and the latter half for FPP (First Person Perspective). This will be the first major tournament to cover both of these views, providing an equal $1,000,000 prize pool to each and pushing pro players to play outside of their comfort zone for half of the tournament.
The difference between TPP and FPP is vast and divides the Player Unknown: Battlegrounds player base quite greatly. FPP provides more realistic and intense gameplay for the player, whereas TPP gives a strategic advantage by allowing players to look around corners and behind them, without the opposing players being able to see them. It will no doubt be a fantastic viewing experience to see how the pro teams adapt to the play.
There are a number of other gameplay changes that will be in effect during the PGI 2018 tournament, including changes to the bluezone that will increase it's closing speed to push players closer together quicker, resulting in faster paced gameplay and firefights in the early game. This will likely be a very welcomed change, as the early stages of a competitive PUBG match are generally slow paced and quite passive. It will also be a fantastic change to see the new Miramar map, with it's rough terrains and wide deserts, and Erangel map, with it's small 8km x 8km size, in rotation.
PUBG PGI 2018 TEAMS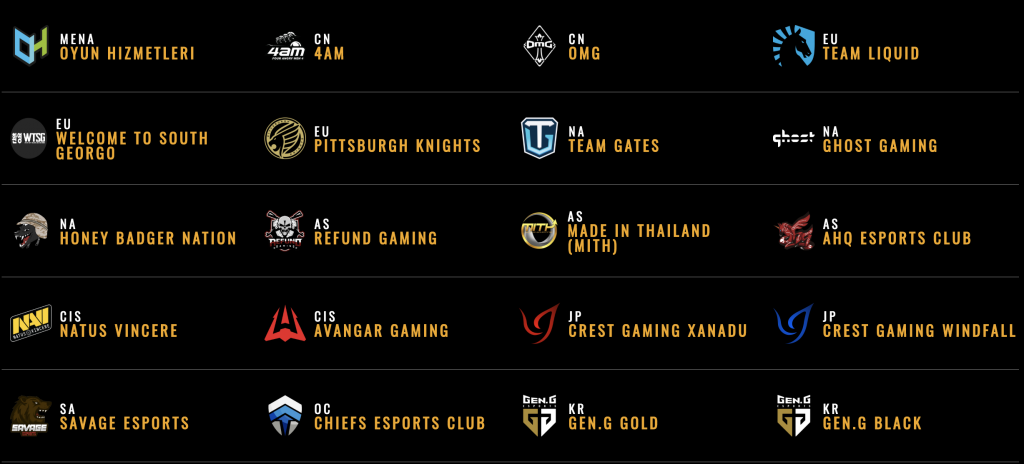 20 teams from around the world have qualified for these finals in their own regions, in smaller tournaments that have been taking place around the world over the past months. There is a great mix of wider known organisations like Team Liquid from NA, AHQ Sports Club from AS and Na'vi from CIS, with a contrast of smaller and some unrepresented organisations like WTSG from EU and Honey Badger Nation from NA. From watching the qualifying tournament live in the UK we've seen how the smaller teams can quickly take points from the bigger teams and hold superior positions throughout the tournament so there isn't a clear winner, which makes the viewing experience all the more exciting!
PUBG PGI 2018 MARKETS & ODDS
Markets for overall tournament winners are starting to come through from our larger partners, like Bet365 and Betway esports, with smaller operators currently still getting these listed. We've been speaking with Bet365 closely and they're going to be releasing additional markets such as MVP and first kills over the coming hours, so keep checking their website to make sure you get the best markets and odds to really maximise your bets!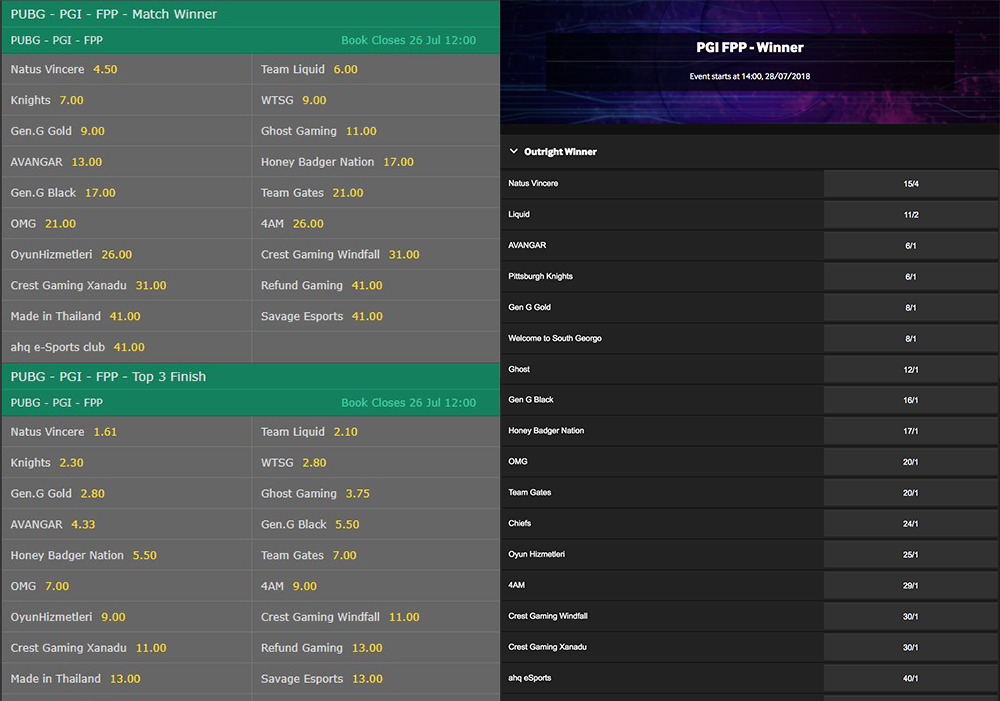 The favourites to win are Natus Vincere (Na'Vi) across both the FPP and TPP tournaments, with Team Liquid and Welcome To South Georgo (WTSG) coming up very close behind them and are sure to be close contenders. Unlike most esports tournaments that are currently in play, the asian teams aren't donned to be the clear winners and it gives a chance for European and North American teams to take home some silverware. Here are SickOdds we can see the top three containing Na'Vi and Team Liquid, with WTSG in the top 5 with Pittsburgh Knights, but at the end of the day a single map could make all the difference so don't be afraid to back a long shot at 40/1+!
With a similar betting format to horse racing in traditional sports we will likely expect to see smaller bets being placed across the top teams, and even some accumulators made across the top 3. With more people starting to bet on Battle Royale titles we still see very generous odds for exceptionally strong contending teams. Combining this with some amazing esports bonuses there's no doubt that you can make some great return on your bets. If you're looking for more information about how to pick the best esports bonuses, then check out our previous post on getting the most from your esports bonuses.
If you want to see the action live, tickets are still available from Ticket Master and you'll be showered with free, limited edition PUBG skins and creates to show off in game. Although we can't attend ourselves we're insanely jealous of anyone that gets the Pan of Judgement for attending on the 25th of July! So if you fancy watching some intense gameplay and firefights, follow the link below to book your tickets!