NICKMERCS' MFAM Gauntlet – May Preview
MFAM Gauntlet
As the Final of the second month of the MFAM Gauntlet starts tonight at 4PM EST, let's take a look at the teams competing and the format 
Last month it was "Team MFAM", the gauntlet qualifier winners who took home the $24,000 prize for winning. A total of 420 points saw them defeat Vikkstar123, WarsZ and Jukeyz who came second with 400. To gain these points you are scored on kills and placement, lets dive further into how this works.
Format
The format of the MFAM Gauntlet goes as such. There are two weeks of community qualifiers, the winner of these two tournaments get to play in the Main Event. The Main Event has teams of 4 enter, these then have 3 hours to score as many points as possible and create the highest total from their best 5 games. 
Following this the 6 highest scoring teams will be placed into a single-elimination bracket where they will battle against another squad, where the highest scoring team progresses. To ensure that the teams are balanced their overall K/D must be less than 16.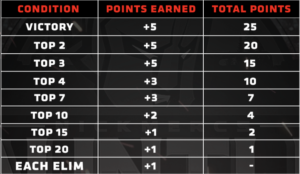 Competitors (subject to change up until event start time)
Team NICKMERCS 
NICKMERCS

FaZe Swagg

Sypher PK

Dez
Team Bloo
FaZe Bloo

ClutchBelk

Med1cine

Royalize
Team Dr Disrespect
Dr Disrespect

LyndonFPS

HusKerrs

Cloakzy
MFAM Falnets
Falnets

Minkss

GeorgasEvan

NicoSuavve
Team Aydan
Aydan

Tfue

Priestahh

Clayster
Team FaZe x UFC
FaZe Dirty

Dillon Danis

FaZe Testament

Johnny Walker
Team DougisRaw
DougisRaw

Gunless

Symfuhny

THump
MFAM SuperEvan (Last months winners)
SuperEvan

Ampz

Frozone

Etrain
Team Hitch
Team National Guard
Cam

ZexsOG

Daxy

Strotnium
Team Crimsix
Crimsix

Pamaj

Studyy

Proof
Team JKap
Jkap

Enable

Christian Kirk

Galvanxze
Team Vikkstar
Vikkstar123

WarsZ

Jukeyz

MVS
Team NoahJ456
NoahJ456

Tommey

UnRationaL
Team MFAM Noli
Noli20

Jaysful

BRTyler

Elyshreds
Team Barstool
Team LEGIQN
LEGIQN

BabyDillster

Speros

Parad12e
Team Censor
Censor

Attach

Apathy

Xotic
Team Kyle Van Noy
Kyle Van Noy

Nas

Frag

Fricke Barstool
Team TrainwreckTV
TrainWrecksTV

Crowder

aBeZy

Felo
Team TeeP
TeeP

BobbyPoffGaming

Nadeshot

Rallied
Prediction
There are many good teams entering this month's MFAM Gauntlet. Specifically Team Aydan (6.60 @ Midnite), Team Crimsix (14.00 @ Midnite), MFAM SuperEvan (4.20 @ Midnite), Team Vikkstar (11.50 @ Midnite), Team Censor (9.40 @ Midnite) and Team TeeP (10.50 @ Midnite). These teams are definitely ones to look out for, MFAM SuperEvan are last month's winners, while the rest consist of current or former Call of Duty professionals. Kill world record holders or all round incredible players.
Personally, I'm backing Team Vikkstar to take the crown this month. Although they're not favourites. Vikkstar currently holds the Warzone Squads kill world record, while he has won three back-to-back-to-back Warzone Wednesday's with his teammate WarsZ. Joining them is Jukeyz, Syndicate Sunday winner who also got the most kills and a player who used to hold a kill world record. Their fourth is Marquez Valdes-Scantling, a wide receiver for the Green Bay Packers, he has some real Warzone skill too!
Last month's highest total score was 420, with Vikk, WarsZ and Jukeyz coming in second place with 400. If they can up their game slightly from last month, they should be in the money.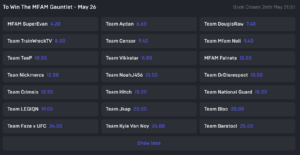 You can watch the MFAM Gauntlet on their Twitch Channel for an overview of the tournament with casters switching between POV's. Or your favourite competitor should be streaming themselves. The leaderboard can be found here. Remember, it starts at 4PM EST and is scheduled to go on until 10PM, if you're in the UK that's 9PM – 3AM.
Tipster Betslip
Tournament Winner
Team Vikkstar

1.0u @ 11.50