Twitch Rivals Warzone Showdown NA – Preview
Twitch Rivals Warzone Showdown
In the Twitch Rivals Warzone Showdown players such as the Chicago Huntsmens' Scump, Formal and Envoy will all be playing! Here's the format, competitors and my prediction. 
Format
Twitch Rivals Warzone Showdown features a 4-hour pubstomp format, similar to that of the MFAM Gauntlet. Here, 90 teams (trios) will compete for 4 hours earning points for both their placement and kills. Their top 3 scores from the 4 hours will be added together for their final score. Any games started within 10 minutes of the end time will NOT count towards the teams final score.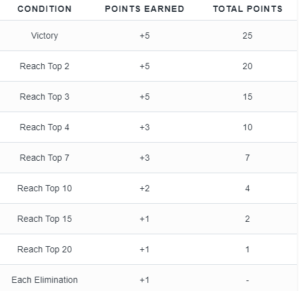 With 90 teams entering, this needs a big prize pool. $50,000 is on the line here, with the top 30 teams getting a piece of it. 1st place will take home $6,000 ($2k each) for winning the tournament, not a bad day's work in my eyes.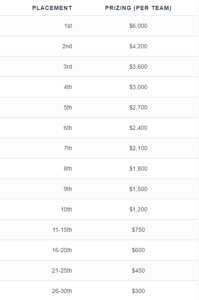 However, $11,000 of the $50k prize pool is bonus prizes, for most kills, most wins etc. So while you get points for placement and want to come first, teams may opt to go for as many kills as possible for some of this bonus money.

Competitors
Team TeePee

TeePee
DougIsRaw
Merk

Team Symfuhny

Symfuhny
HusKerrs
Priestahh

Team ProblemWright

ProblemWright
StuDyy
Yungstaz

Team NICKMERCS

NICKMERCS
Swagg
SuperEvan

Team DrDisrespect

DrDisrespect
Karma
x2pac_thuglord

Team Kalei

Kalei
pz_blue
TGLTN

Team Enable

Enable
JKap
GalvanizeCOD

Team Nadeshot

Nadeshot
TimTheTatman
Crowder

Team greekgodx

greekgodx
stellarmoves
clutchbelk

Team KingRichard

KingRichard
MuTeX
Clayster

Team Scump

Scump
Cloakzy
FORMAL

Team Metaphor

Metaphor
MuTaySean
Frozone

Team Aydan

Aydan
Cellium
aBeZy

Team xcudi

xcudi
Promo_z
forceewut

Team Ashek

Ashek
wagnificent
IceManIsaac

Team DylanEnvoy

DylanEnvoy
–
–

Team KYR_SP33DY

KYR_SP33DY
sidearms4reason
TheG18

Team TrainWrecksTV

TrainWrecksTV
Crimsix
FeLo

Team Alex_Zedra

Alex_Zedra
myka_b
grewal024

Team Redman_Lyons

Redman_Lyons
Scop3s_
itsEyeQew

Team Hutch

Hutch
H3CZ
Bartonologist

Team Tommey

Tommey
ScummN
StayFinessen

Team KatGunn

KatGunn
Nameless
Lacefield

Team chocoTaco

chocoTaco
chun
austinFBZ

Team BobbyPoffGaming

BobbyPoffGaming
Skyz
Blazt

Team LEGIQN

LEGIQN
Speros_
Babydillster

Team LyndonFPS

LyndonFPS
piemxn
Reptar

Team Censor

Censor
Tourva
Gangstazsalute88

Team HasanAbi

HasanAbi
Nesua
Yassuo

Team Pineaqples

Pineaqples
Reedr
xxUnRationaL
Prediction)
Twitch Rivals Warzone Showdown has many exceptional teams playing. I'm keeping my eye on Team Censor (23.00), Team Aydan (6.20), Team Symfuhny (4.50), Team LEGIQN (8.40) and Team NICKMERCS (17.50). However, my pick from them is Team Aydan. Aydan himself is a Warzone Wednesday winner and multiple finalist, while Cellium and aBeZy both hold the squads kill world record. This team should be dominant, however Team Symfuhny will be right on their tail. Either of these teams would be a good pick, but I'm favouring Team Aydan.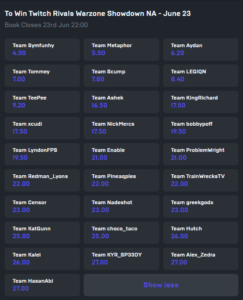 Twitch Rivals Warzone Showdown starts at 2PM PST (10PM BST) and will last 4 hours. So if you're a European supporter, you're in for a long night! It is broadcast on Twitch Rivals own Twitch channel will your favourite competitor will also be streaming their POV.
Tipster Betslip
Tournament Winner
Team Aydan

1.0u @ 6.20